Seasonal campaigns are a great opportunity to target and engage your customers when they are in the seasonal buying mode. As the year progresses, new occasions are coming into their spotlight, and our buying behaviors fall in line to mark special holidays and events. International Women's Day is one of them. If this occasion is important for your brand, you shouldn't miss making your customers feel special and appreciated. Women's Day presents a great opportunity to promote your Shopify store and relevant products.
What is Women's Day about? It's an occasion to celebrate the achievements of women in many fields – commercial, political, and more – and also to promote equality and diversity. For the Shopify store owners, it's a great chance to get on board with a cause that is recognized across the world and boost their sales and profile.
Nowadays, women represent the largest market opportunity in the world.
"Women are fast becoming prominent creators of wealth, and it is expected that they will control 75% of all household spending by 2028."
As an online retailer, what should you do with International Women's Day? To help you increase conversion rates, we've compiled a list of eCommerce marketing tactics. These budget-friendly tactics may be a useful addition to your overall Women's Day marketing plan.
In the article that follows we look at how you can use International Women's Day as a way of enhancing your brand awareness and value, as well as attracting more shoppers to your online store.
Let's start by looking at how you can make your Shopify store one that celebrates Women's Day.
How to Get on Board with a Women's Day Campaign?
Even if your Shopify store is not female-orientated you can still use Women's Day as an event to boost your presence in the online market. Supporting a cause that promotes diversity and aims to remove traditional barriers that have been in place for women in the workplace, in politics, and many other areas of life is a positive message.
Here are a few things you can do to ensure you get a clear message to your customers about Women's Day.
Create a Sense of Equality And Appreciation on Your Website
Your homepage is the first thing to start. Your homepage needs to create enjoyable feelings suitable for Women's Day. Incorporating in your offer an inspiring message about women empowerment, women's rights, and gender equality will find the place in your customers' hearts and turn it into profits.
Tip: You don't always need to launch a sale or a discount. Stay relevant by simply raising awareness of your initiatives and using creatives to communicate women-centric values.
Show your loyal customers that you respect and appreciate them. Our decisions are based on emotions and the way things are presented to us. They will remember how you value their rights.
Though, it's not only about your homepage. Social media channels should also showcase your offer or initiative by wishing happy Women's Day and relevant content. Whether you're on Facebook, Instagram, Twitter, Pinterest, or TikTok (in general we recommend all of them as sales channels), take your time to update your cover images, create posts and stories to better reflect your brand and values, showcase your offer, and create cohesion. It will ultimately translate to better engagement and conversion rates.
Use Inspiring Equality Messages
Your Shopify store needs to shout 'Women's Day' in the weeks approaching the 2022 date. Use your blog and newsletters to let it be known that you fully support the driver towards diversity and women's empowerment in the workplace and elsewhere.
This is a great way of getting your brand associated with the movement and the event. Women's Day is about more than rights for women. You could run a few blog entries about inspirational women – you may have those who have inspired you – as we tend to make commercial decisions based on an emotional response.
Navigate your customers through your product offerings.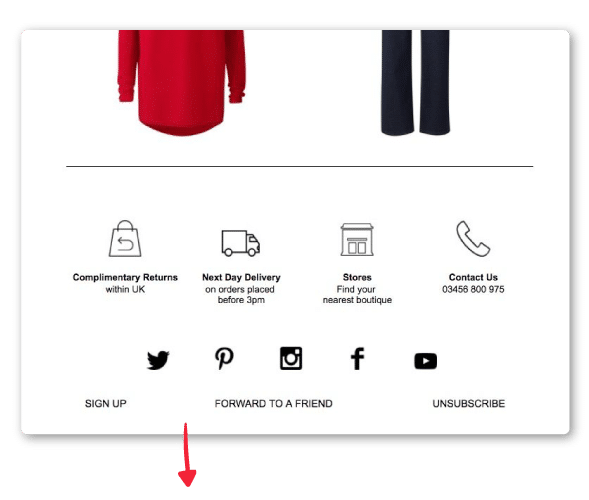 Highlight delivery details –
shipping time can make or break your conversion rates. Explain the returns process.
Optimize Your Landing Pages
It is important that when a visitor hits your landing pages they are presented with the Women's Day message. Let them know that you are supporting this great cause and why. It's important that the message remains consistent throughout the store so all landing and product pages should highlight the products you are promoting for Women's Day.
Staying on-message is essential. Tell your visitors about notable women who buy your products – if you have Brand Ambassadors now is the time to use them – and promote items that are designed or made by women. You can brand some products as being 'Women's Day' specials and sell them only at this time of year. Remember, at this point, it's about the message and how it comes across at your Shopify Store.
It's also quite important to make the right product selection and create a special Women's Day collection. Expanding your product listings to include packaged sets and limited-edition items that reflect consumer interest can provide additional incentives for visitors to purchase from your online store. Present ideas that go above and beyond your customers' expectations:
Create a Pleasant User Experience
Easy navigation through your website is important to steer your visitors to a specific destination such as a landing page with your Women's Day offer. It should be obvious wherever they land what actions are required for them to take and to do so within three clicks. That says, make it stand out from the rest of the page.
To highlight special store features and information, consider adding a block on your homepage that quickly summarizes your brand or offer.
Always have in mind the goal of your website and your campaign.
Keep delivery details clear and marked.
Add navigation boxes with CTAs.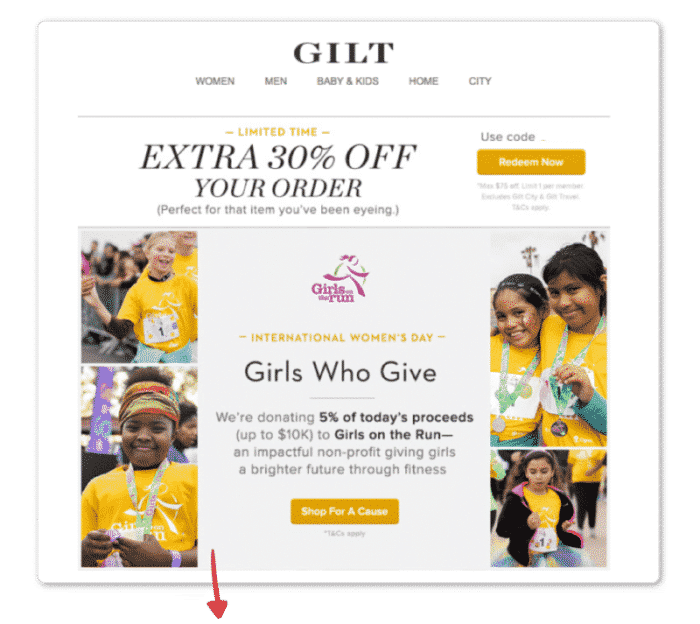 Dedicate a special section on your website
for Women's Day gift cards.
Devise an Email Marketing Strategy
Email remains one of the most successful and effective marketing platforms. In the run-up to Women's Day, you should have in place a well-constructed email marketing campaign to target your existing customers. We suggest segregating customers as follows, with each group getting a different personalized message about your Women's Day Shopify promotions:
Smarter use of the segmentation data and crafting a sharper email message will bring better conversion rates.
If you want your offer to stand out in subscribers' inbox, create a wow effect. It doesn't have to be a shocking discount. It can be something unique.
Some ideas that you can use for your Women's Day promotion:
Offer your loyal customers early access
to the newest collection.
Anticipation leads to higher customer engagement
and engagement leads to additional sales.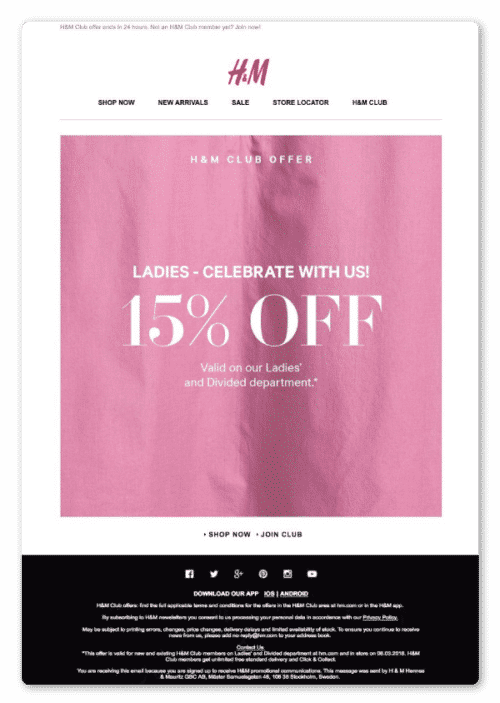 "Highly segmented VIP emails often only make just 3% – 5% of your overall list but spend three times more per recipient than other customers in your database, according to a benchmark report by Klaviyo."
Boosting Sales at your Shopify Store
The purpose of engaging with the Women's Day campaign is to boost sales at your Shopify store. Following are some of the methods you can use to ensure you give your customers a reason to shop with you.
You don't need to introduce substantial reductions in prices, simply decide on which products you are going to highlight for your Women's Day campaign. These can be taken from your regular product range, or if you introduce new special products for this specific occasion, you have another method of boosting your Shopify store's relevance to the event.
A couple of gift ideas: offer cosmetics, for example, with a free cosmetic bag. This sort of deal is attractive as it is a something-for-nothing tactic that appeals to consumers. Offer the customer a free printed reusable bag with every purchase, another method of getting your brand out there.
Ensure that the offers you include are directly aligned with Women's Day in your marketing campaign.
One of the major reasons that consumers abandon a cart is coming across added costs – including shipping and taxes – when they reach checkout. Indeed, the statistics for cart abandonment are sensational: across all eCommerce platforms, as many as 80% of potential customers fail to complete a transaction for this and other reasons. One method of targeting cart abandonment is to use pop-ups when a consumer is still in the store but has stopped engaging. Offer them a discount – or free shipping – if they complete within a set time.
You can also arrange to target those who have abandoned the cart and left the shop with a follow-up email or message inviting them to complete the transaction with an appropriate discount. If you can offer free shipping, you should do so, and be aware that many consumers will spend more than intended to each a free shipping limit.
Bundled deals are a great way of engaging shoppers with good deals. Offer a hair color product with a hairbrush set, for example. Or a bracelet with a matching necklace. Whatever the market your Shopify store serves there will be natural pairings or even more that you can put together for special Women's Day bundle deals.
Flash Sales and Time-Related Offers
For consumers who are browsing your store but not buying you can use automated pop-ups offering them a discount if they buy a product within, say, half an hour. Or even 'Buy in 30 minutes and get free shipping' with a countdown timer. These – and flash sales that offer a discount for a very limited time – are proven methods of improving sales and can be fully automated.
Use Social Media for Promotion
Women's Day will be all over Facebook, Instagram, Twitter, and all the popular social media platforms, so you and your Shopify store need to follow suit and promote your specials on all of your pages. You can offer discounts, for example, should a visitor click through from one of your pages. This will also improve your social trust standing. Use your brand ambassadors to push your brand across their pages and provide entry into a competition for anyone who shares your posts to their friends' list. Expanding your reach in this way is a great way of using an occasion such as Women's Day to the best effect.
We've mentioned this in a section above, but we cannot stress how important it is to use Women's Day – and other highly promoted events and occasions – to get past and dormant customers back to your Shopify store. You have a database of previous purchase history that comes in very handy at this point.
By sending a personalized message along the lines of '…we noticed you bought XYZ from us before. It's one of the specials in our Women's Day celebration! Buy now and we'll give you 10% off/free shipping/a gift.' Personalized emails and messages have a 30% higher open rate and almost 50% greater click-through rate than generic campaigns, so ensure you take the time to get a personal message to your past and present customers.
Our final point is one that is often overlooked in the drive to boost sales and get your Shopify store optimized for a campaign such as International Women's Day. Consumers like to be kept in touch with eCommerce stores, and this is a perfect opportunity to put out a relevant newsletter, to run questionnaires on social media asking your customers what they want to see, and to generally engage with your customer base. The only way to give your customers the deals they want to see on Women's Day is to find out what will attract them.
International Women's Day gathers more pace each year and is an important opportunity to align your brand with a recognized and respected movement and campaign that is important to millions of women across the world. Follow the above tips and take inspiration from this short article and begin planning the optimization of your Shopify store ahead of International Women's Day in March 2022.
Interested in more ideas on how you can promote your Women's Day offer?
See how you can create your first cart abandonment campaign

Start increasing your Online Sales today
Get a quick free consultation about your website.