E-commerce marketing ideas for International Women's Day
Seasonal campaigns are a great opportunity to target and engage your customers when they are in seasonal buying mode. As the year progresses, new occasions are coming into their spotlight, and our buying behaviors fall in line to mark special holidays and events. International Women's Day is one of them. If this occasion is important for your brand, you shouldn't miss making your customers feel special and appreciated. Even if your products or services are not women-related, you can take advantage of the online interest and noise.
Nowadays, women represent the largest market opportunity in the world.
"Women are fast becoming prominent creators of wealth, and it is expected that they will control 75% of all household spending by 2028."
As an online retailer, what should you do with International Women's Day? To help you increase conversion rates, we've compiled a list of e-commerce marketing tactics. These budget-friendly tactics may be a useful addition to your overall Women's Day promotion strategy, so let's take a look.
#1 Create a sense of equality and appreciation on your website
Your homepage is the first thing to start. Your homepage needs to create enjoyable feelings suitable for Women's Day. Incorporating in your offer an inspiring message about women empowerment, women's rights, and gender equality will find the place in your customers' hearts and turn it into profits.
Tip: You don't always need to launch a sale or a discount. Stay relevant by simply raising awareness of your initiatives and use creatives to communicate women-centric values.
Show your loyal customers that you respect and appreciate them. Our decisions are based on emotions and the way things are presented to us. They will remember how you value their rights.
Though, it's not only about your homepage. Each social media channel should showcase your offer or initiative. Whether you're on Facebook, Instagram, Twitter, Pinterest, or TikTok (in general we recommend all of them as sales channels), take your time to update your cover images, create posts and stories to better reflect your brand and values, showcase your offer, and create cohesion. It will ultimately translate to better engagement and conversion rates.
#2 Create a pleasant user experience
Easy navigation through your website is important to steer your visitors to a specific destination such as a landing page with your Women's Day offer. It should be obvious wherever they land what actions are required for them to take and to do so within three clicks. That says, make it stand out from the rest of the page.
To highlight special store features and information, consider adding a block on your homepage that quickly summarizes your brand or offer.
Always have in mind the goal of your website and your campaign.
Keep delivery details clear and marked.
Add navigation boxes with CTAs.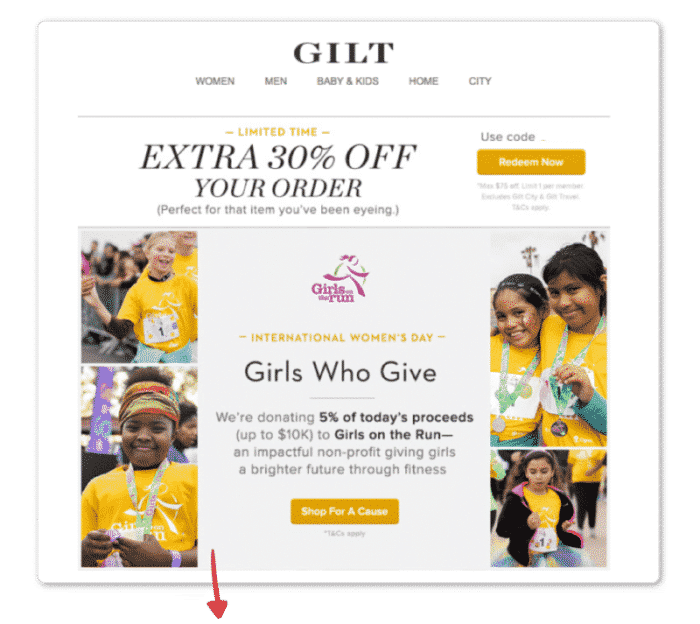 Dedicate a special section on your website
for Women's Day gift cards.
Navigate your customers through your product offerings.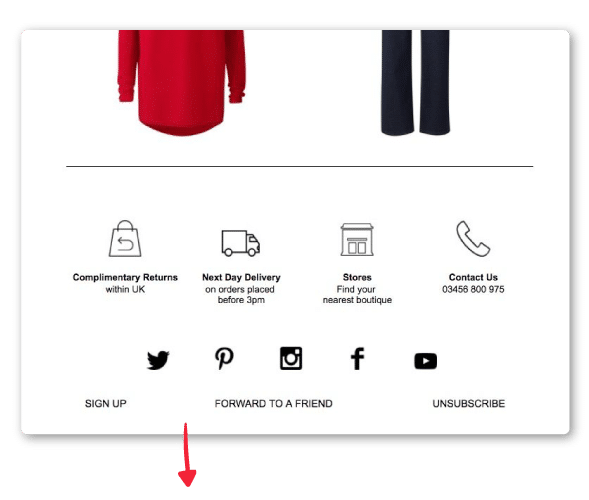 Highlight delivery details –
shipping time can make or break your conversion rates. Explain the returns process.
#3 A landing page with women-related items
When creating a dedicated landing page for Women's Day, it's quite important to make the right product selection and create a special Women's Day collection. Expanding your product listings to include packaged sets and limited-edition items that reflect consumer interest can provide additional incentives for visitors to purchase from your online store. Present ideas that go above and beyond your customers' expectations:
Whether you sell women-related items or not, it doesn't mean your business should be kicked out of the game for Women's Day. Even if you sell only goods for men, you can offer them a Women's Day gift with each purchase. You'll help them to easily get a gift for Women's Day. A note on this, the vast majority of men support Women's Day and what it stands for, so don't exclude them from your marketing campaigns.
This can increase your average order value and overall sales, and decrease abandoned carts since your customers are more likely to follow through with their purchase if they know they'll get something extra.
#4 Drive up sales with email marketing
As the top-performing channel, email marketing will have the strongest impact on the success of your Women's Day promotion. Not just because of its cost-effectiveness but because it offers you an option to segment your subscribers' list and approach different segments with a unique and personalized message.
Remember: Not everyone is the same. This way, the right leads get the most impactful information at the right times which will result in a higher email open rate and click-through rate.
Note: Personalized email campaigns achieve on average 30.32% higher email open rate and 49.66% higher click-through rate.
Categorize your subscribers based on:
"Highly segmented VIP emails often only make just 3% – 5% of your overall list but spend three times more per recipient than other customers in your database, according to a benchmark report by Klaviyo."
Smarter use of the segmentation data and crafting a sharper email message will bring a better match between your email campaigns and your subscribers.
If you want your offer to stand out in subscribers' inbox, create a wow effect. It doesn't have to be a shocking discount. It can be something unique.
Some ideas that you can use for your Women's Day promotion:
Offer your loyal customers early access
to the newest collection.
Anticipation leads to higher customer engagement
and engagement leads to additional sales.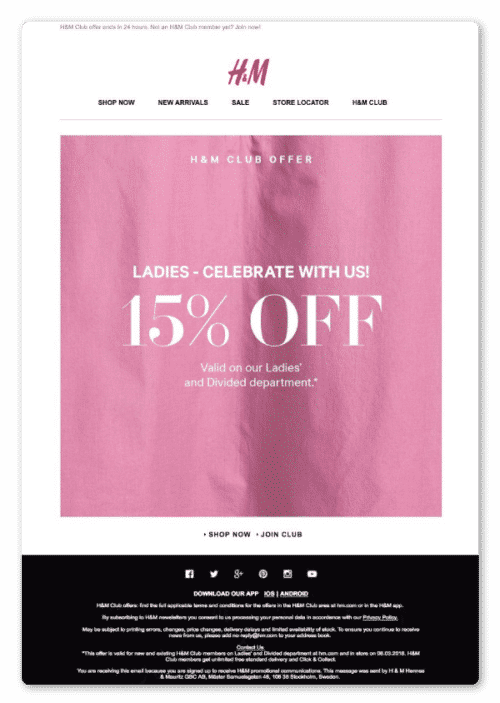 Interested in more ideas on how you can promote your Women's Day offer? Check out our article on
themed templates
for your pop-up designs!
See how you can create your first cart abandonment campaign

Start increasing your Online Sales today
Get a quick free consultation about your website.