As an online retail owner, you are likely making decisions 'round the clock. What the content of your newsletter should be, which suppliers to collaborate with, how to best answer customers' questions? Luckily, there are some choices when running a Shopify store that is very easy to get on board with, and we're here to add another one to your list.
While Shopify does partner with over 100 other third-party payment providers to make online transactions secure and efficient, using Shopify Payments as your primary payment gateway to facilitate credit card and debit card transactions provides a distinct advantage when setting up your Shopify store's checkout process. While we were hard-pressed to find reasons NOT to install Shopify Payments if you use Shopify, read on as we break down why as a Shopify store owner you are uniquely positioned to benefit from Shopify Payments, all the extra perks that come along with installing it as your online store's payment provider, and why you should be using it.
Still, deciding on whether or not the Shopify payment method is for you? Scroll down to check out our handy checklist on how it compares to other popular third-party payment providers!
Sounds good, but what is a payment provider?
If you're already familiar with the world of payment gateways and credit card processing, feel free to skip to the next sections. If not, let's back up a little bit first. When buyers go to check out on your online Shopify store, they are prompted to fill out their credit card information or use a digital wallet to complete their order.
In either case, for your online store to process this transaction, a payment provider is needed. Popular payment providers you've already heard of include PayPal and Amazon Pay (and as we'll get into it, later on, Shopify Payments!). Essentially, a payment gateway is a technology used to safely encrypt the buyers' credit card information, and payment providers are responsible for transferring the funds from a customers' bank account to the merchant's account.
What payment providers does Shopify offer?
Shopify offers four different categories of payment providers: Shopify Payments, third-party payment providers, alternative payment methods, and manual payment methods.
Shopify Point of Sale
(POS) is a handy tool that lets you track transactions offline, and integrates with Shopify's card reader (which you can get for free
here
.
OK! Now that we've covered some of the technical basics, let's get into the specifics about why you should be using Shopify Payments for your online retail:
No Shopify commission fee
That's right! This is a major one: depending on your online store's
Shopify plan
, with all other third-party payment providers you are charged a Shopify commission fee of 0.5-2% per transaction in addition to the standard online credit card transaction fee. That's not the case with Shopify Payments! No other way around it:
Shopify Payments is the only payment provider where as a Shopify store owner, you don't pay a commission fee.
Since as a Shopify user you would be paying a commission charged with any other payment provider, setting up Shopify Payments provides a simple way to cut costs long term.
Consistent credit card transaction fees
The savings don't end there. Shopify Payments' transaction fee structure is simple: determined by your
Shopify plan
, it's 2.4 – 2.9% plus a flat tax of 30¢ per order (and even less for in-person point of sale purchases). With other third-party payment providers, this fee may be subject to increase depending on the provider's policies and customer location. With Shopify Payments, its online credit card transaction fees remain the same across the board.
Compatible with major digital wallets
As customers' preference for digital wallets as a payment method increases, with some estimates showing
52% of all online consumers will opt for paying with digital wallets by 2023
, it's good to keep your options open when deciding on the methods you accept on your Shopify store. Both for online and offline point of sale payments, with Shopify Payments, you can configure your payment setting so that customers can use their digital wallet accounts with Apple Pay, Google Pay, and Shop Pay. Google Pay and Shop Pay are available exclusively when using Shopify Payments, helping to expand the payment methods you accept and expedite the checkout process.
Here's what the bottom of your cart page might look like with Shopify Payments' activated and the digital wallet options below:
You can get started with Shopify Payments in minutes (really!). In fact, when launching your Shopify store in an eligible country, Shopify Payments is the default payment gateway. We'll cover the details later on, but the process for setting up your account in which you can have funds from credit card transactions distributed just involves inputting your company contact and bank account information. Account approval typically takes around 24-72 hours, but in the meantime, you can start accepting payments right away!
Sorry Excel, but in this case, Shopify Payments has a fix for managing your revenue data. With it, you have all your online (and offline! if using Shopify's Point of Sale System with Shopify Payments installed) transaction information in one place. You can log on to your dashboard as you regularly would, and track your order values by checking your "Payouts". With its user-friendly reporting and automatic integration with Shopify, Shopify Payments means efficient data monitoring.
Multiple currencies set up
Have customers using a different currency than that of your store? Not a problem! With over 100 accepted currencies, Shopify Payments makes it very easy to facilitate international payments. You can manage all the different types of currencies your online shop will accept all through your dashboard (Find "Shopify Payments" in the Payment Providers section, click "Manage" and scroll down to "Currencies).
Just be sure to also enable a currency selector like the Geolocation app so customers can easily select and check out using their local currency.
The same page checkout process
As we covered in
Checkout Optimization Tactics for your Shopify Store
, keeping the checkout process simple can go a long way in reducing abandoned carts. With all other third-party payment providers, visitors need to navigate to another window (external payment gateway), potentially complicating the checkout process. With Shopify Payments, customers can keep it moving by staying on the same page (direct payment gateway), which as you know can translate to a higher conversion rate and less abandoned carts.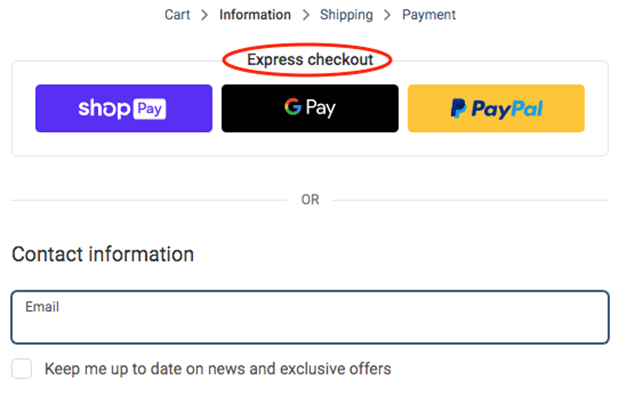 Here's a look at the top of the checkout page when Shopify Payments is activated:
With digital wallets like Shop Pay, users can cache their information for next time to make the checkout process go even faster. In other words, while Shopify's digital wallet compatibility provides customers with additional payment methods, this integration also has the added benefit of faster checkout times, and another reason why you should be using Shopify Payments as your primary payment provider.
Run into some issues along the way? No worries! Shopify offers 24/7 support, so using it as your primary payment provider can also mean some more specialized advice as you navigate transactions. You can get in touch with the Shopify Support Team by chat, email, or phone. For less specific questions, the Shopify Community is also a useful forum to browse for other topics related either to Shopify Payments or your Shopify store in general.
With Shopify Payments, you also have access to its Fraud Analysis feature. Every time you receive a potentially fraudulent order, that therefore may lead to a chargeback, later on, that order is flagged in your dashboard, so you can then decide whether to fulfill it or refund the customer account.
To determine orders where there is a high or medium risk of fraud, some data Shopify may look at is credit card payment tries, whether shipping and billing information is the same, and whether payment with multiple methods has been attempted, so you don't have to individually research each order to figure out which ones are risky to fulfill, Shopify Payments keeps track of that information.
Safety matters. So much, in fact, that one study showed that up to
17% of customers had actually abandoned their carts
due to security concerns. Shopify Payments and all Shopify stores on the platform are automatically PCI compliant, which is a technical way of saying that they meet all the standards for ensuring secure transactions. That means that Shopify Payments is not only an easy-to-use payment solution but one that protects customer data, too.
Ready to go, but how do I install Shopify Payments?
That's simple! You can do it within minutes all from your Shopify dashboard. Just head on over to "Settings".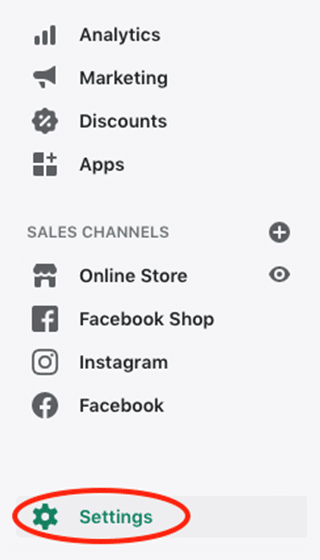 Then head on over to "Payments":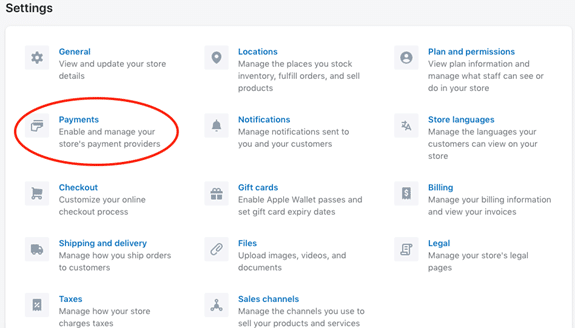 And then "Complete Shopify Payments setup". This process doesn't take long since it just asks for your business contact and bank account information. Remember, if eligible, you can start selling with Shopify Payments automatically! Just note that for the funds to get deposited in your account, your information needs to be approved, a process that typically takes 24-72 hours.
Still not sure if it is for you? Check out our checklist below that compares Shopify Payments with other popular payment providers offered on Shopify!
We hope we've given you a better idea of why you should be using Shopify Payments and successfully encouraged you to select it as your primary payment provider. Now the question is: ready to get set up? In any case, happy selling!
Start increasing your Online Sales today
Get a quick free consultation about your website.