Valentine's Day Promotion Ideas for E-commerce Businesses
While Christmas and New Year may feel like they were just here, the gifting season is back again and this time, people are focusing on another major holiday: Valentine's Day. As more customers are increasingly relying on online shopping, ecommerce store owners are likely already in the process of designing their festive sales strategies to celebrate, so we've put together a list of some Valentine's Day promotion ideas to help drive traffic to your website, grow your following and increase your subscriber base. Read on for some Cupid-approved marketing promotions that will have your online store ready for February in no time!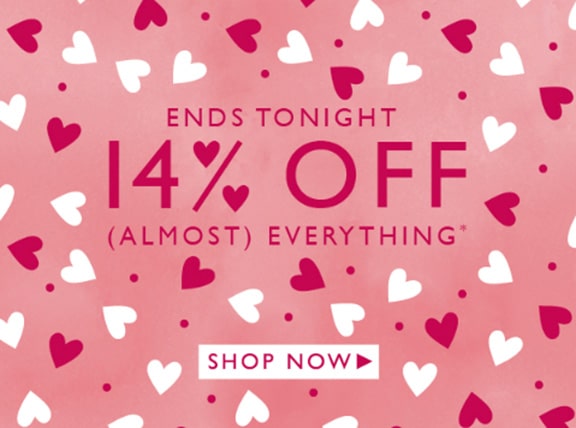 Why focus on Valentine's Day
While BFCM is still the most active shopping period of the year, Valentine's Day follows close behind. Valentine's Day sales were expected to reach $27.4 billion in 2020, with those numbers growing consistently year-to-year before then (2020 alone marked a 32% jump from 2019!). Data also shows that while overall fewer people are opting to shop for the holiday, those that do are spending more on average. As the ongoing pandemic will likely continue to shape consumer behavior, Valentine's Day still remains a date online retailers should keep in mind when planning their marketing campaign. Valentine's Day purchases tend to be candy, flowers, jewelry, and dinner, but if your inventory does not include these items, you can absolutely still launch promotions to celebrate! People enjoy seeing festive content, and many of the marketing ideas outlined below are not only relevant for Valentine's Day but can be useful strategies in general to increase your sales and subscribers. 
Valentine's Day Promotion Ideas
First step: Set up your website to reflect the holiday! While this may mean creating festive landing pages and home banners, it can also include offering themed products and launching a special Valentine's Day collection. As shoppers are looking for gift ideas for around this period, expanding your product listings to include packaged sets and limited edition items reflect consumer interest, and provide additional incentives for visitors to purchase from your ecommerce business.
#2 Digital Valentine's Day cards
No need to break out the scissors and paper for these! Another approach to promoting your online store is creating digital Valentine's Day cards that visitors can send to their loved ones. These are an additional way to provide value to customers, and given that they're designed to be shared, can also drive organic traffic to your website. The tone of your messaging depends on your brand, which means there's a lot of room for creativity. You can opt for sillier content, or let your visitors choose what to include while you provide the designs.
When it comes to digital resources, you don't have to limit yourself to e-cards! Depending on your ecommerce business' focus, you can also feature Valentine's Day recipes, a Spotify playlist, DIY instructions, a guide related to your service, or themed blog posts.
#3 Add to your Valentine's Day messaging
Sure, February 14th is the date marked on calendars, but Valentine's Day and the entire month lend themselves to celebrating different types of connections. With over $10 billion predicted to be spent on family members, friends, co-workers, and pets in 2020, the data shows that consumers are shaping and redefining what this holiday means to them. When it comes to your Valentine's Day marketing promotion, consider expanding your targeting beyond couples. You can tailor your promotional messaging to also focus on friendships and general relationships with loved ones. Another angle to explore is the idea of self-love, as customers may be interested in purchasing gifts for themselves in addition to others for Valentine's Day, and could just use some extra encouragement. With Valentine's Day-adjacent holidays like Valentine's Day popping up, there are many ways to design your marketing promotion to resonate with even more shoppers.  
Is it February 15th already? No need to stop celebrating! Consider launching major discounts on your themed products throughout the week after Valentine's Day as a way to make use of stock leftover, and draw in customers who may be looking for Post-Valentine's Day discounts.
Online quizzes have already taken the internet by storm, so designing your own for Valentine's Day can be a more inventive, familiar, and interactive way to connect with your customers (they've likely already taken a few!). As far as promotional ideas go, quizzes provide multiple uses. Their gamified structure may appeal more to customers than other more traditional campaign types, and encouraging users to share their results on their social media accounts can lead to increased brand awareness and organic traffic. If your quiz's landing page includes products, then people may feel more inclined to browse, as they have not only invested more of their time to get these results than simply visiting your website, but are also viewing product recommendations tailored for them.
#5 Valentine's Day gift guide
Finding the perfect gift for Valentine's Day is not always an easy task for shoppers, so designing a curated gift guide for your online business can help guide them in the right direction. And it's not only about the items you feature – gift guides give you even more control of the associations customers make with your products, so feel free to get creative with your categories! Aside from giving website visitors ideas on what to get for their loved ones, gift guides also provide an opportunity to showcase your products in new ways. While gift ideas themselves don't necessarily have to be Valentine's Day-themed, it doesn't hurt to have a few items on the list that are specific to the holiday! In addition to featuring your gift guide on your website, you can also include it in your email marketing campaigns. Looking to create gift guides for subscribers based on their Facebook likes? Get started with Socital, which lets visitors sign up with their social media accounts for even more personalized newsletters.
#6 Social media polls and Q+As
For this Valentine's Day promotion idea, feel free to pass the mic to your followers! Social media platforms are already designed for interaction, so creating content that encourages participation is an organic way to connect with your audience. Launching Valentine's Day-themed polls and Q+As lets visitors voice their opinions and also allows you to get to know your audience better. These types of campaigns are not just about promoting your Valentine's Day sales, but also to interact with customers. Aim for starting a conversation on visitors' interests, and let the rest go from there! While the goal is to provide an engaging space for your followers to talk about what's on their mind, this type of content can also lead to valuable insights for future initiatives, products, and campaigns your business may consider later on.
#7 Digital workshops and events
While Valentine's Day promotion ideas that focus on discounted products are some of the most effective for driving sales, marketing your online store can also include providing value to customers through experiences and tutorials. Is your retail store focused on home goods? You can host a workshop on how to make Valentine's Day sugar cookies or a festive dinner using items from your inventory. Launching a new Valentine's Day collection? Give customers a behind-the-scenes look at the decision-making process, or even document products' arrival to your storage space to build anticipation. The main objective is that your events are useful to your target audience, so consider what event themes may resonate most with them. This type of content can increase consumers' investment in your brand and provides an additional way to connect with your followers. For more immediate interactions with participants, consider hosting your workshop on Instagram Live for real-time comments. You can also set up a countdown to the event, and email your subscribers to let them know the date!
Particularly during Valentine's Day, people are looking to add a personalized touch to their gifts. To help them find unique items for their beloved ones and commemorate special events in their lives, you can offer them the option to customize their products, either by including names or messages. While this can be a little bit more of a challenge to coordinate, particularly for smaller businesses, you don't need to miss out if your inventory doesn't include items that can be customized! Even the option for a personalized note can go a long way, and still lets customers tailor their gift for their recipient. If it's feasible and your business focuses on products that are frequently gifted during Valentine's Day, also consider providing free gift wrapping at checkout (with reminders added across your website!) for an additional incentive for visitors to follow through with their purchases.
While hosting a buy one get one free sale can be an effective promotion any day of the year, the idea of buying two gifts for the price of one is especially relevant for Valentine's Day. This promotion offers savings to customers, as well as the opportunity to buy an additional item for those they love. To generate a sense of urgency, you can also combine a flash sale and a BOGO sale all in one. Set up a countdown timer on your website and on social media, send spread out reminders or push notifications to your subscribers, and emphasize that the offer will be available only for a limited time. For another variation on the BOGO sale and especially effective for smaller, inexpensive items, consider increasing the number of items needed to qualify for an additional free one, or launch a buy one get one half off sale. An additional strategy to increase your average order value while offering the same discount is launching a BOGO sale but instead of buying one get one free, they can purchase two and get two for free, and so on.
Consumers who come across great Valentine's Day sales may want to spread the word. To generate buzz around your promotions, and to add an additional perk for customers who are sharing your content, consider launching a referral program! If you already have one set up, you can increase the discount for participants for the week of Valentine's Day. Referrals also allow your followers to vouch for your brand in a more structured way and can be a useful tool when establishing payment methods for influencer collaborations. While a percentage off is a more flexible reward for referrals, you can also consider offering a Valentine's Day gift or store credit.
#11 Valentine's Day giveaway
During a period when shoppers are trying to find gifts for their beloved ones, you can also host a giveaway to offer gifts to them and everyone on their shopping list too! This promotion idea also works well if your products are not directly related to Valentine's Day, since the benefits of a giveaway are not holiday-specific (consumers can enjoy them any time of year!) If you're looking to collect email addresses, you can feature the giveaway on your website, and to grow your follower base, you can announce it on your social media accounts. If your goal is email subscribers, consider increasing the rules for entry beyond tagging friends, following and commenting, so that your email list includes subscribers who are highly invested in your brand and allow for more effective email marketing campaigns.
For a spin on the Valentine's Day giveaway, consider also hosting a contest! Hashtag contests on Instagram can be an especially effective promotion, since it increases the opportunity for your brand to be discovered, and encourages participants to submit their own content that you can later feature on your page. Prizes can include Valentine's Day gift sets, gift cards, or even an experience (free service, dinner on the house, etc.).
For more Valentine's Day ideas, head on over to our Valentine's Day ecommerce guide here.
Enjoy implementing these strategies, and Happy Valentine's Day!
Start increasing your Online Sales today
Get a quick free consultation about your website.