Tips for Reopening Shops after Lockdown
After months of tight lockdown, the upcoming days are bringing hope. States are finally beginning to reopen and lift restrictions! Retail businesses will soon be allowed to resume their in-store activities. Small and medium (especially non-chain) retail stores have been among the hardest hit by the pandemic. Mainly classified as non-essential, they have been forced to operate online only. Those that have failed to adapt their businesses to the emerging needs of the market
closed permanently
. It's vital for your business to evaluate staffing, networks, systems, processes, vendors, and partners before reopening. Besides the complex challenges of maintaining daily operations, retail store owners are also facing rising concerns about the safety of their employees and customers. To help you prepare for reopening the doors of your brick-and-mortar store, we've put together some actionable tips and recommendations for keeping everyone safe.
#1 Keep your store clean and well-ventilated
One of the basics for reducing the risk of transmitting the virus is to provide natural ventilation by opening windows and doors whenever possible to increase airflow. Good indoor air quality is crucial for your customers and employees.
Note: ventilation systems that recirculate air should be avoided, so if you have any installed, double check their settings to ensure that they have a high rate of air change and that they are helping bring outdoor air in. Particularly as summer approaches and the weather gets warmer, it can be tempting to rely on standard pedestal fans, but these can actually increase the risk of transmission, as they may be blowing air from one person in your store to another. While these can be a more costly investment, you can also consider installing air purifiers with HEPA filters, though these may require some more technical training to ensure their proper operation. A portable air purifier can also be a more budget-friendly way to help reduce airborne transmission. While more research is needed, in any case, the safest option is to keep as many windows and doors open as possible.
As consumers return to traditional in-store shopping, they will also be touching products and trying on clothing, making regularly cleaning and disinfecting high-touch surfaces at least twice a day essential to reduce the risk of virus transmission. These surfaces include:
Make sure you also have large quantities of disinfecting hand sanitizer all over the store available to customers and employees. You can set up dispenser stations across the store, or have bottles readily available (consider placing them at points of entry and the checkout counter, among other spots!).
#2 Ensure social distancing and mask wearing in your store
After relaxing stay-at-home restrictions and retail reopening, you can expect that people will rush to do their in-store shopping therapy. Touching products, trying on clothes and footwear, putting items back, taking others is an inevitable scenario. In such a stir, ensuring social distancing in the store can be a challenging venture. Due to the wide variety of retail store types and sizes, it may not be possible to implement all the recommendations. So, what could you do?
Some recommendations to help ensure social distancing include:
Even though people are aware of the risks and do their best to protect themselves and others, they can easily get excited and forget about safety measures, so the more clear visual guides you can offer, the better!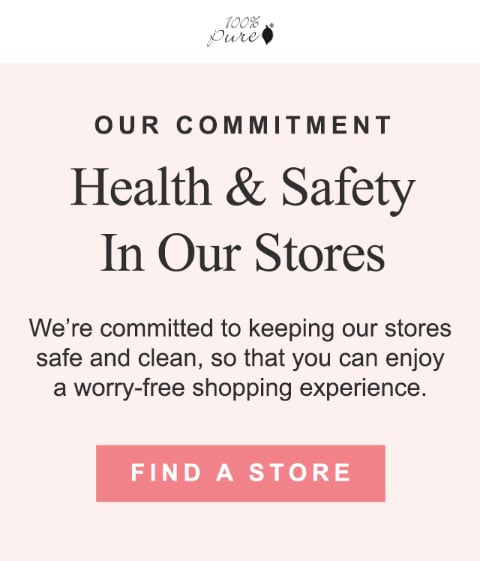 #3 Simplify return policies
One of the biggest challenges for retailers during the pandemic is dealing with returns and reselling returned merchandise. This obstacle will hurt apparel retailers the heaviest, as nearly 17% of all apparel purchased is returned, though there are still ways to streamline the return process to make it safer for everyone.
It would be beneficial for your business to have a strict protocol to manage the handling and processing of returned products. The way you're going to design the protocol depends on the capabilities of your business. It can vary from store to store. For example, some stores are isolating returned products for 48 or hours or more before exposing them again. You can also consider disinfecting non-porous products.
However, as retail locations have reopened, the hybrid returns policy buy online / return in-store remains problematic and can present its own challenges. After you decide on your new return policy, educate your employees on evolving protocols. Also, make it clear to your customers the way the return process works. These practices will help keep both workers and customers safe.
#4 Communicate your reopening strategy to your customers
Utilization of owned digital media assets and clear, consistent, multi-channel messaging are crucial for educating customers on safety measures implemented for their protection. To provide updates on your store re-opening, you could use all the available digital channels such as your website, social media channels, the newsletter, and any text or customer support service.
Some ideas to consider include:
Prepare multiple posts and adjust the posting frequency. This way your customers will be reminded any time about the necessary steps they should take when they visit your store. Let them know that your space is safe for visitors and employees alike.
#5 Collaborate with and promote other small local businesses
With the pandemic continuing to impact retail, pairing up with a small company can be especially effective during this time to drive traffic to both of your online stores. Consider reaching out to one on more local businesses in your area to host a giveaway or promotion – this can be used as an opportunity to let your audience know that you have reopened, and the focus can be on your digital channels. That way, you keep your followers informed on the measures your companies have been taking should they choose to visit your physical store, but you are also encouraging them to shop online while supporting other businesses in your area.
#6 Update your Google My Business page
While potential customers rely on your social media accounts for information about your store, if they are less familiar with your business, their first interaction may be the results that show up when they do a quick Google search. This means that it may be a good investment of your time to ensure that your profile is updated, particularly when it comes to your service options (curbside pickup, etc.) and safety measures you're taking. You can do this by heading over to your Google My Business account, selecting your business's page and then "Info". From there, you can change the relevant sections to better reflect how your online store is operating post-lockdown.
#7 Establish health protocols for employees
While vaccine rollout is expanding quickly, many may still not eligible yet, which makes establishing safety protocols for your employees all the more important. As in-store shopping resumes, staff will be coming into contact with an increased number of customers, so putting together a list of guidelines for employees is an absolute priority in order to keep everyone safe.
Some actionable steps to consider are:
#8 Continue investing in your other sales channels and services
While restrictions are relaxing, there will also be many that will be hesitant to return to in-person shopping. Providing alternative options for them to purchase from your store can be beneficial for everyone, as it allows consumers to order in the way they feel safest, while also maintaining your store's additional revenue streams. Moreover, given that you have very likely spent the past year operating your store in new ways already, you will not need to spend too much extra time adjusting to keeping these options open. Consider emphasizing curbside pickup, in-person pickup, virtual appointments, and optimizing your online store to keep purchase options easily accessible.
This also applies to your other marketing tactics in general. Many companies have pivoted to digital workshops and talks, as in-person meeting have been prohibited. Providing online alternatives to your services and events (for example, virtual exercise classes) can prove beneficial for your company even once we can all gather together in-person again. Consider your long-term sales strategies and whether or not the new sales strategies you have introduced throughout the past year can be applicable after lockdown as well (in many cases, they will be)!
#9 Add to these guidelines depending on your store's focus
While the above can be useful measures to take in general, there are also many ways to tailor them and take additional precautions depending on the type of store you have. For example for beauty stores, you can consider having display only testers and samples. For restaurant owners, having one-use menus, bringing out utensils only once customers are seated and having work stations with fewer staff members can be some of the many other steps you can take to help ensure everyone's safety as indoor dining returns. Consider how your store is set up and where you can expand on health guidelines and adjust accordingly!
While this list is not comprehensive, it can be a starting point to create a safer environment for all. We recommend continuing to check the health guidelines of local and international authorities as they are subject to change as new information is published. In the meantime, we hope you have an easy transition to operating your store after lockdown. We know it has been a challenging year, but store owners can play a significant role in minimizing transmission by applying relevant safety measures, continuing to operate their alternative sales channels, and making their physical locations safely accessible for in-person shoppers. Good luck, and stay safe!
Start increasing your Online Sales today
Get a quick free consultation about your website.