The Best Places on Your Shopify Website for Lead Acquisition
For businesses that operate online only, their website is the main lead acquisition channel. If visitors land on your website, it means that they are interested in your business. While they browse your website, you need to grab their attention and offer something in exchange for their data. If customers see the benefits of giving their data, they will give them. You will never have 100% of your customers opt-in with their email, but if it's done correctly, you could have a much higher conversion rate.
The main problem with many e-commerce businesses is that they don't give their visitors enough opportunities to connect with them. Think it this way, if your visitors choose to ignore the box to subscribe to your newsletter, must you lose them there? Perhaps you could approach them differently. For instance, an exit pop-up with an irresistible offer such as a discount on the next purchase or exclusive access to new collections may nudge them to change their minds and give their data. Get an idea? This is one of the many ways to turn your visitors into leads.
Social Media CTA buttons is another opportunity to collect customers' data. These plugins allow people to opt-in by using their Social Media accounts such as Facebook, Twitter, Google, etc. Social media registration process provides more accurate data than the traditional one and gives you a clear picture of your visitors and customers.
#1 Isolated Call-To-Action
Expected conversion rate: 20-40%
It's the highest converting spot to add a Social Media plugin. A landing page with an isolated CTA button has the potential to convert between 20-40%! Why so much? When the focus of the landing page is on that call-to-action button, visitors will be hooked to opt-in before even exploring your site.
#2 In-Content Identity Capture
Expected conversion rate: 10-50%
Placing a Social Media plugin in the content that your visitor is reading is a very effective way of capturing identities. Try to make the CTA relevant to the content. It's not that you will be offering something useful to your visitors, but you'll gain credibility and brand recognition.
In the middle of a piece about SEO, they placed "RECOMMENDED FOR YOU" with a full guide to SEO and a CTA to download it. They also have a CTA box to the right that is anchored to the screen and stays in view as you scroll down the article.
#3 Product Page Call-To-Action
Expected conversion rate: 10-20%
Imagine you are looking for wool coats and comparing them amongst different sites. Then you go to the page with winter coats of your favorite brand and you see an offer with a coupon code for winter coats if you connect with a social media account. This CTA is a little more tricky to implement but can be very effective.
Expected conversion rate: 5-10%
A welcome pop-up appears usually a few seconds after a visitor enters your website. As much as people claim to dislike them, pop-ups still convert like crazy. While it's common to ask for a newsletter subscription in a welcome pop-up, we recommend offering a discount to engage your visitors right away. It's an opportunity to grab your visitors' attention and data before slip away.
Expected conversion rate: 5-10%
Exit-intent triggers detect when your visitors reach a crucial touchpoint – to leave your website without making a purchase or leaving their data. It's designed to reduce cart abandonment and capture more leads. This type of pop-ups works well because it doesn't disrupt your visitors' browsing. It's the last-ditch effort to get their data or motivate them to complete their purchase. Adding Social Media plugins will make this process for them faster and easier.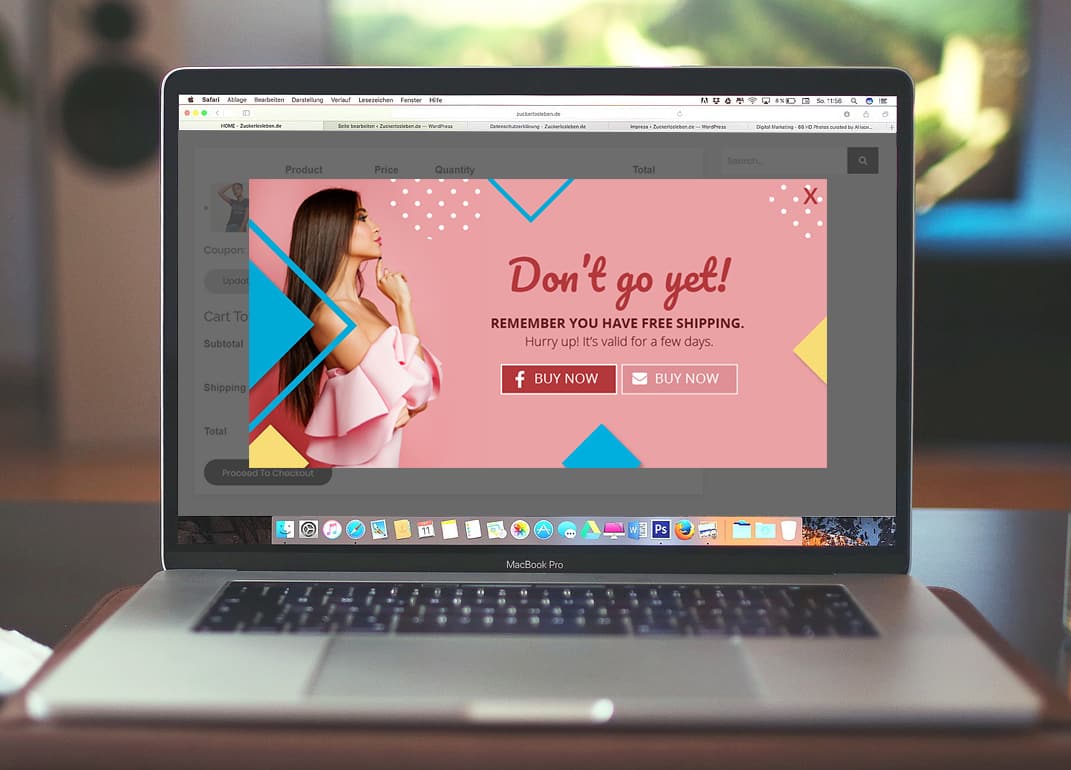 See how you can create your first exit-intent popup

Start increasing your Online Sales today
Get a quick free consultation about your website.