10 success elements of high-converting landing pages
Creating a killer landing page – a.k.a lead capture page – is not a simple task. There are dozens of components that influence how well the landing page will convert. Keeping in mind that every landing page has a different goal, a different call to action, a different audience, a different offer, it's pretty hard to make a step by step guide to creating a successful landing page.
See how to create landing page that converts:
The Ultimate Guide by Moosend.
One size obviously does not fit all. Some landing pages are selling discount Adidas shoes to millennials. Another landing page might be inviting digital marketers to a 2-hour webinar. While another landing page may be inviting the website's Facebook followers to participate in a contest. However, not all hope is lost! There are some elements that are common in all high converting landing pages. In this article we are going to walk you through all these "success" elements, so by the end of it, you'll know enough to create your own high-converting landing page! So let's jump right into it!
Learn more about
High Converting Landing Page Examples.
Success Element #1: The Killer Headline
A headline is where everything begins. It's the first and most critical element of your landing page. These are the boxes that your killer headline must tick:
The headline should grab the reader's attention.
It should inform the user why he should convert.
It should be short: preferably only ten words.
This landing page from Spotify checks all three! The title is short, it definitely grabs your attention and it immediately informs the reader what he will gain by converting.
Success Element #2: The Persuasive Subheadline
If the headline makes the user look, then the subheadline should make them stay. Always remember:
A persuasive subheadline should be positioned directly underneath the main headline.
The subheadline should go into slightly more depth and detail than the main headline.
Here's a perfect example from the Facebook for Developers page. The Subheadline is underneath the headline. It perfectly complements the headline and describes in more detail what the page offers.
Success Element #3: The Images
There's no doubt that the images on your landing pages will have an immediate effect on your visitors. Let's see the checklist that your landing page image must tick:
The image should be large, or even act as the background of the landing page.
It should be relevant to what your landing page is offering.
It has to be high-quality.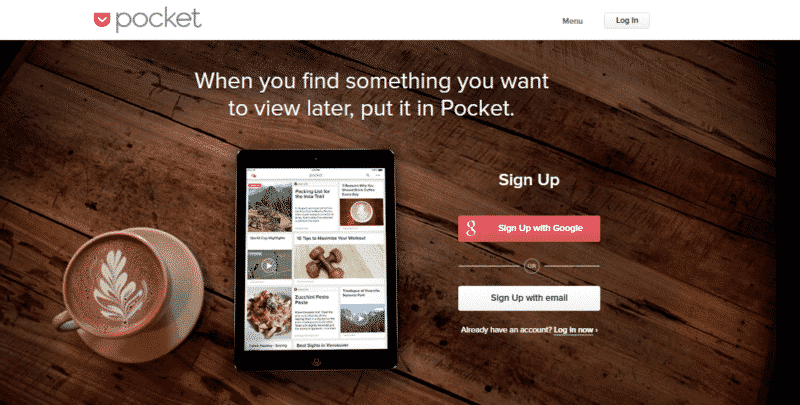 Check out the image that Pocket uses on its landing page. It's attention grabbing, aesthetically pleasing and it showcases pocket's platform.
Success Element #4: The Attractive Offer
No matter how well designed your landing page is, visitor's will not convert unless they have something specific to gain. Asking a visitor to just sign up to your newsletter does not sound that appealing and won't bring you more than 1% conversion rate. You need to make sure that you are offering something that your visitors want in exchange for them clicking on the CTA button. Here are some great ideas you can implement:
Offer something for free. This can be a free pdf guide, a free e-book or a free attendance to a webinar.
Prompt them to enter a contest: Run a contest with an attractive reward and ask your visitors to join! Everyone wants a chance in winning something so a contest landing page will easily get you a 25% conversion rate!
Offer a personalized experience. Visitors love to be treated like unique customers, so offering a personalized service is definitely a reason to convert.
Success Element #5: The List Of Benefits
You might think that your offer is attractive, but it's not always clear what the visitor will gain from receiving it. Try and list the benefits of what you are offering  into bullet points that answer this question for your visitor: "What's in it for me?"
Benefits should be clearly focused on the user. Always put yourself in the position of your visitor and think about how he will benefit by using your product or service.
The benefits listed on Skype are simple and straightforward. They are explicitly user-focused and present all the unique actions that a user can experience when using Skype.
Looking for landing page best practices? Find out 25 Actionable Ways to Boost Conversions.
Success Element #6: The Logical Flow
The logical flow of a landing page is equally important as its actual content. By having logically structured content on your landing page, you engage your visitors and make it easy for them to follow your thought process. Here's what you need to keep in mind:
Start with your headline and subheading, continue with your benefits, include your testimonials, and end with your Call to Action.
Netflix's landing page is a perfect example of a landing page with a logical flow. It has a simple flow of headline, subheadline, and Call to Action button.
Success Element #7: The Emotional Trigger
Each product can be presented in such a way that it brings emotional pleasure. Discover and present how your product meets an emotional need beyond its functional role and describe it in your landing page.
Success Element #8: The Client Testimonials
A user wants to know that they can trust you before they connect with you. So a trustworthy testimonial about your landing page's offer can be the final nudge before they convert.
Use testimonials from actual clients. Celebrities and experts are great, but using such testimonials is an outdated technique.
Testimonials should be specific. A good testimony is backed by real numbers, data and specific applications.
Success Element #9: The Social Media Connect
Your landing page is one of the highest lead capturing places on a website. So you need to make sure you are using the best practices possible. Enter Social Media Connect. By allowing your visitors to connect with you with their Social Media accounts on your landing page you are achieving two things: First, you give your visitors a super fast and simple way to convert. And second, you are able to collect rich customer data such as name, email, gender, age, interests and location, directly from their Social Media profiles. So apart from growing your email list, you can use all this data to create personalized experiences for your customers. This will not only boost your conversion rates, but it will also help you build strong relationships with your customers and increase customer loyalty.
Think carefully about which social media platforms you are allowing your customers to connect with. Facebook is the most popular choice among visitors. However, visitors on B2B websites prefer to use LinkedIn.
Ensure your visitors know that the data retrieved from their Social Media accounts remains private and that you will never share updates on their profiles.
This is the landing page to download our Guidelines for Rockstar Ecommerce Leaders, and it's one of our highest converting landing pages!
Here's another perfect example from Myhomemall. Their landing page prompted the participants to enter a contest by connecting with their Facebook accounts.
Success Element #10: The Powerful Call to Action
The CTA is the most important success element of all. Here are a few CTA must-haves.
Make it big and attention grabbing.
Make your copy compelling. The actual CTA copy is the most significant copy on your entire landing page. Use copy that is exciting, energizing and intriguing.
Use a contrasting color. To make it stand out, that color needs to be different and contrast from the other colors on the screen.
Let's jump back to the example of Netflix. Notice how eye-catching the red CTA is on the dark background.
As we said before, there is no standard recipe that can guarantee you that your landing page will convert. What you need to do is take all these elements into consideration and use the ones that match your business. Do some A/B testing to see what works best and always keep improving 🙂
Need a killer landing page builder? Try Moosend.

See how to add Facebook Login to your on-site campaigns

Start increasing your Online Sales today
Get a quick free consultation about your website.