Summer Giveaways: Marketing Tips for a Successful Summer Season
It's amazing how quickly the months fly by. One minute everyone is talking about Christmas and the holiday season, the next about Easter. Summer is an occasion that many people all over the world celebrate because it's the season to get out and about in the sun, have some holidays, and make use of all sorts of outdoor activities.
This is something that marketing agencies capitalize on, and in your business, you should be doing so too. Everyone wants to get out and about for summer, and that will be especially true this year with all the difficulties many countries have been having with the global pandemic. People will be keen to get out of the house and start doing things that they missed out on over the last year with all the lockdowns.
To help you get a little bit of inspiration for the upcoming summer and help you push your store forward, we've sorted out some amazing marketing tactics that you can add to your overall marketing strategy. So, let's get started!
Getting into the Summertime Season
Getting into summer is something that retailers and e-commerce stores will use as a unique opportunity to enjoy the warm weather. Not only does summer promote healthy, outdoor lifestyles, it also makes for increased tourism and events that only occur at this time of year. Having said that, summertime is important for many people who are active and like getting their face in the sun.
Themed Visuals and Events
Perhaps one of the best and most common things that you can do for your business during the summer period is updating your site and some events to go with the summer lifestyle. That will mean bright colors, the sun, the surf, and the seaside. Bright colors like yellow or blue work really well because they remind consumers of the beach. This is also then the perfect time to start launching some summer promotions and giveaways that can be themed around the weather, being outside, sports, the beach, and everything else in between.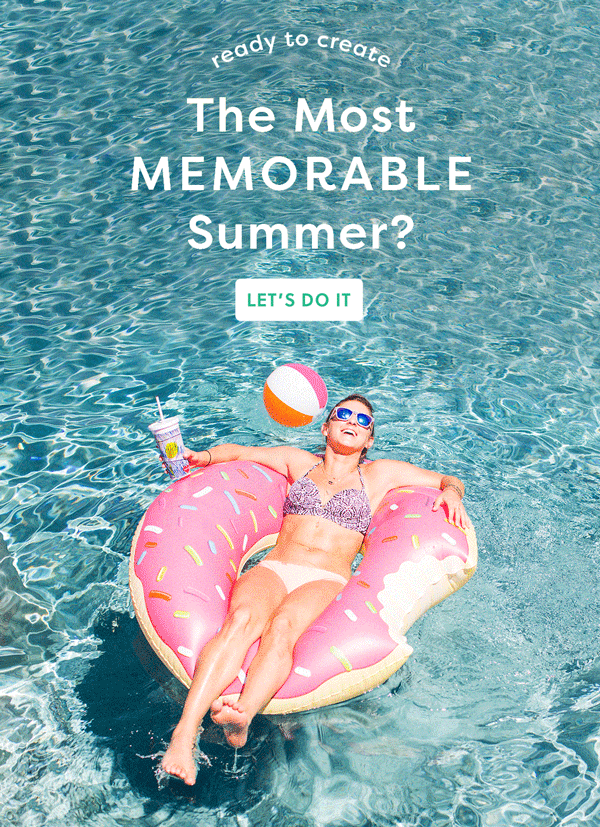 Summers – Dated by Country
It may seem obvious at first but if you're doing any kind of summer promotions, bear in mind that it may not be the same for everyone. You can have your campaigns geo-targeted so that all of your website visitors in the northern hemisphere have got the summer campaign running while the southern hemisphere folk doesn't seem marginalized. Nobody wants to watch other people experience the joy of summer when they aren't able to do so themselves.
Running Giveaways for the Summer
The giveaways that can be run during the promotional period can focus on many different things. A lot of brands will use summer-themed events to promote special offerings, celebrate summer holidays, or even add seasonal discounts to already existing baskets.
Given that the summer season can be slower for many retailers, it means that getting creative with how you choose to market your online store and giving your website visitors a reason to opt for your brand is especially important during this period. A little inspiration goes a long way when it comes to brainstorming summer contest ideas and giveaway ideas.
Share prompts are some of the best ways to promote your competition or contest. In fact, it's one of the more successful ways of promoting a contest or giveaway prize. Contest entrants who head to your site to sign up and participate will be given one entry. Those that stick around to promote the competition will give them extra entries depending on how it's shared.
For example, you could give your customers an extra entry into the competition when they share the blog post or competition, extra entries when they follow your company on Twitter or retweet the post, there are even options to have Facebook pages shared and liked to get extra entries too.
This is one of the more interesting strategies because it organically increases social media engagement without you having to lift a finger after your initial competition posting. There are also many tools that can handle this type of competition for you. Once your audience has followed or shared a link, the information will be distributed amongst their own friends, giving you huge exposure.
This may temporarily bump up your numbers in some cases because some might unfollow the post soon after they have followed it.
We've probably all been the victim of online e-commerce stores telling us that there's only a certain amount of time left before a competition or special closes. This is a countdown timer and what it does is promote urgency. In a similar way to a site that tells you there are "only a few products left", this puts a limited time frame on the efficacy of the entire promotion.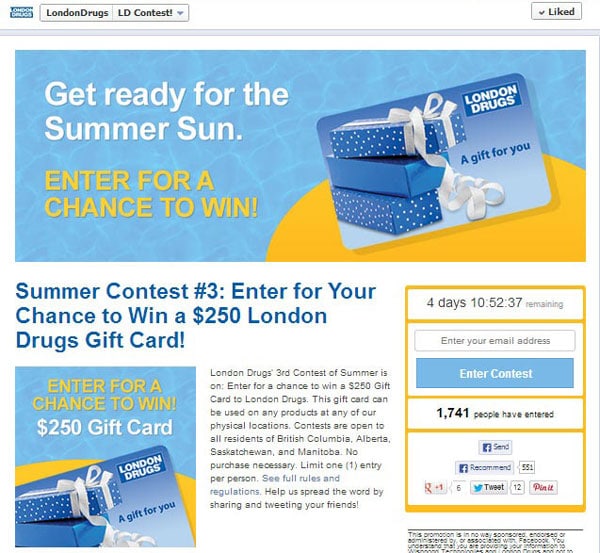 The trick is that it needs to be run for the appropriate amount of time. Having a contest that lasts too long won't promote the urgency you need but having one that ends quickly won't give you the biggest amount of exposure. It's best to do a trial-and-error testing methodology with these contests so that you can tell just how long you should run them.
Make sure that the countdown timer you're about to implement for your giveaway prize is prominently displayed. It's important that your audience knows they are getting a great deal or have entered into the competition. This is also a vital part of having the timer.
If your brand is able to do so, offering customers a coupon just for entering the contest is a great way of getting entries too. When combined with some of the other methods we've outlined, you can establish an incredibly effective summer marketing campaign that will grow your email list and collect more leads. What this does is make sure that every person who enters your competition or giveaway gets a nice little reward for doing so.
Not only will this promote your giveaway and also give your fans and followers more incentive to actually share the contest around, but it will also offer them a chance to shop on your site. In spending the gift card or giveaway that you're offering, you have a chance to give consumers a fantastic experience, ensuring they come back. In this way, what you've effectively done is give people reward for visiting you, creating a long-lasting customer, and also have added more entries into your contest. What a fantastic use of time!
With the birth of social media apps such as Instagram, and more recently, TikTok, photo and video contests are some of the most interesting. This gives all your consumers the chance to take photos with your products, effectively doing your own advertising without you having to put much effort in. This will actually allow a far greater reach for your products and services because those who have a small but loyal following will then be able to cross-pollinate to your site. This is a great way for people to capture and enhance your brand image, giving a greater nod towards brand awareness.
By having people take their own photos or videos, tagging your company, and promoting your products, you're able to get a good idea of what kind of brand image your company has from the client's point of view. If you have it written up in your terms and conditions that the photos or videos become your IP, you can also get exclusive use of the really good user-generated content that will allow you to use them in future marketing campaigns. This will appeal to many people as it may seem more genuine, and coming from consumers, can be trusted.
Prize Ideas and Giveaways
There are a few ways that you can get the right prize idea and push them towards your marketing ideas to generate the ultimate in giveaway prizes. The first and foremost, perhaps the most obvious is to give away your product. You know how much it's worth, what the mark-up is, and how much it'll take off the bottom line, but best of all, if you're confident with your product giving it away to a newcomer will set you up in the right way.
Another popular form of giveaway prize is a gift card that can be used at your store. This, while a little more malleable for your target audience, can also work in your favor because if it's only redeemable at your e-commerce store. It gives your target audience the chance to go on a shopping spree with your content, and also promotes engagement for those looking through your catalog, planning on spending their prize.
Making Sure the Site is Right
Now that we've covered a lot in terms of the giveaway prize, ideas, colors, themes, and everything else, it's time to make sure that your site is ready for the influx of entrants that the contest will bring, but also so that your site has been fine-tuned to keep them on-board.
Optimize the Landing Page
The landing page of your contest needs to be fine-tuned. When someone shows up on your site, the link to the landing page for your competition should be prominent. When any customer visits the page, it needs to be engaging but straightforward. In this way, you'll ensure they coming there will click through to the final steps of the competition but also keep them there in order to share it where needed.
A blog page or numerous linked social media posts can help to generate some interest in the landing page. It should have some content on it too in order to appear in the organic search engine lists so ensure that it has a description, the prize list, the terms and conditions, and how and when winners will be announced.
Redirect to Competition Page
Every visitor who comes to the site should be redirected to the competition page at some point in their user journey. This is helped by having it displayed throughout the site, but also when it's given a fair amount of focus through social media posts. You'll want the visitors to be able to spend the time on the page that they need to enter, but then also have a link out back to your site so as to avoid a bounce rate.
Links through social media are standard and should be seen as a unique tool to get additional traffic to your competition page. Share it through any and all social media pages that you have as much as a couple of times each day. Don't share it too often as it will risk people getting sick of the spam, but this can be combated cleverly by giving people a new entry each day.
Ultimately you want the people visiting your site to share your competition landing page. Perhaps give customers a short URL they can share to make it easier and ensure that the sharing options are clearly visible and easy to use.
We've already discussed having people gain extra entries for sharing the competition, and in doing so, will create a larger reach that is completely organic. Don't forget that the more people who share it, the more eyes will be on it that aren't necessarily in your network, therefore promoting the site, the page, and your products.
It's always a good idea to invest in some form of advertising. Whether you're looking to invest in Facebook or Instagram ads or just Google ads, having any kind of ads out and about will make for good rewards. You can target the exact audience you're looking for, sorting by gender, age, location, and interest. You can also just boost the posts that you make, something that's a lot cheaper than ads, but almost as effective.
While it doesn't necessarily apply to all your business, if you're someone who is local and relies on the support of your community, don't forget about the offline marketing that can be done. Using flyers sent through mailboxes or other offline marketing like postcards, gifts and packages will also create awareness.
Don't Limit Yourself to One Season
Just because summer is here, and everyone loves it doesn't mean you can't promote all year round! Once you've run your competition and picked your winner, don't stop there. Start working on the next promotion for that big holiday or special event, find out what worked and didn't work, and then plan for the next promotion to be an even bigger success story!
Start increasing your Online Sales today
Get a quick free consultation about your website.