Father's Day Marketing Ideas for Shopify Stores
Father's Day is gaining notable popularity and becoming one of the essential dates in the e-commerce marketing calendar. Spending in 2020 was set to hit $17 billion. In 2021, spending expectations reached $20.1 billion. This means that Father's Day is one of the unavoidable retail holidays for those who want to gain an advantage from seasonal promotions.
75% of Americans plan to celebrate Father's Day this year, a number similar to past years. Consumers are seen spending the most on their fathers – an average of $174, or $26 more than last year. 25% of respondents plan to buy a gift for their husbands, and 11% for their sons.
The top gifts are different from the previous year. Most of the surveyed plan to purchase Father's Day greeting cards (59%), then apparel (49%), a special outing such as dinner or brunch (46%), gift cards (45%) and personal care items (28%).
When picking out a Father's Day gift the most important criteria is the uniqueness of the gift (45%). The next in order of priorities is finding a gift that creates a special memory (35%). Only 18% of respondents said that they were interested in finding a gift that is cheaper or most cost effective.
The impact of the pandemic remains with 40% of shoppers saying they expect to shop online, 33% at department stores, and 22% at specialty stores. This means that you should prepare your online stores for heavy traffic and optimize your checkout for an increased number of orders.
When it comes to seasonal promotions, Shopify store know that standing out of the competition, attracting new customers, entertaining the existing ones, and showing appreciation to the loyal ones requires lots of effort. To capitalize on holidays and boost your sales, you have to include in your online promotional strategy the following key components – creativity, customer segmentation, and marketing automation.
We chose for you a few tips to help you prepare the right promotion for your Shopify store and take the chance to gain an advantage from Father's Day.
FATHER'S DAY MARKETING IDEAS FOR ONLINE RETAILERS
#1 Decorate Your Homepage for Father's Day
As never before, consumers are searching the internet to find perfect gifts for their dads. A lot of your Shopify store visitors will be browsing, maybe buying, or just leaving without saying goodbye. You have a difficult task to find an actionable way to convert elusive visitors into long-time customers. Try to assist in any way you can. Your customers may need help finding the perfect Father's Day gift.
The first impression is crucial so do your best to properly decorate your Homepage and highlight your Father's Day offer. Now, you are wondering where you should start? Start with what is most plain – the color scheme. Colors are important. They affect how people identify with the world and what purchase decisions they make. For this occasion, use a male color scheme – blue, grey, green, or black, and add a little bit of pink or orange, or yellow to highlight important information.
Make it easier for your customers to find what they're searching for by adding a special Father's Day section on your Homepage. You can use a carousel with featured products and a strong call to action to take visitors to a dedicated landing page.
Whatever sales tactic you choose for this occasion, whether a bundle, discount, or BOGO, make it stand out. It should be visible as soon as visitors land at your Shopify store.
Delivery details have a crucial influence on purchasing decisions. Not only do people want to get their gifts on time, but they also want to avoid unexpected shipping costs. Of those who abandon their carts, more than 50% do so because of unexpected shipping costs. So, it's best to address this as soon as users land on the page and to be straightforward about any additional fees that may occur.
#2 Pop-up Designs and Onsite campaigns that Drive Sales
Lead generation is a crucial part of making your Shopify store successful. It's not a secret that getting more leads means getting more sales. If your Shopify store visitors want to learn more about your Father's Day offer or special Father's Day deals, such interest should be captured. The best way to do so without destroying the user experience is to use website pop-ups. You have different types of pop-ups at your disposal that can be customized to your online store needs or the specificity of your offer or seasons. To make any onsite campaign effective, you need to have a clear and targeted message that will drive your customers directly to checkout.
EXIT-INTENT POPUPS FOR GROWING THE EMAIL LIST
Email addresses are the gateway to talk to your customers with follow-ups, discounts, and other marketing techniques down the road. To entice visitors to make a purchase, you can offer your first-time visitors a discount. If it helps them to save money, people will be more inclined to make purchases. Triggering an exit-intent pop-up with an offer the moment elusive visitors want to leave your website will stop them and make them rethink their decision.
COUNTDOWN TIMER POPUPS TO INCREASE URGENCY
Adding urgency to your summer promotion is one of the most effective conversion tactics. Things happen quickly online. If you use time-sensitive language in your promotion, you can encourage visitors to act right away.
CART ABANDONMENT POPUPS TO COMBAT LOST SALES
The easiest way to tackle cart abandonment is acting exactly the time it happens. Adding a simple reminder at checkout will nudge hesitant customers to complete their purchases. It's a simple and cost-effective tactic that will save you from the lost sales. You can offer additional discount code or enhance the sense of urgency around your exclusive deal that was offered.
#3 Awesome Father's Day Gifts that Every Dad Will Love
Choosing the right gift or the perfect one is not an easy task for your customers, especially if the dad has a particular personality. Preparing your list of Father's Day gifts that cover every type of dad will help your customers feel confident in placing their orders.
The top Father's Day gift categories: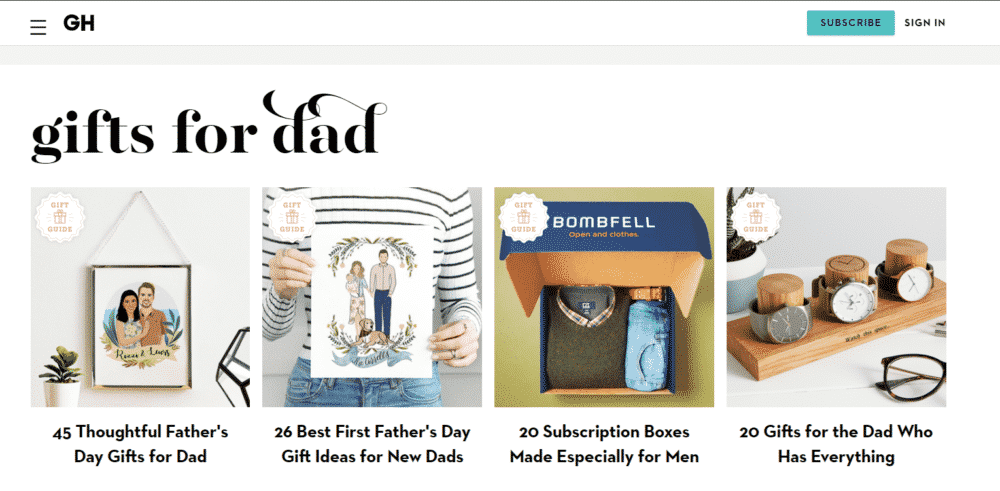 #4 Send out A Father's Day Email Marketing Campaign
Email marketing is one of the most cost-effective ways to reach and engage your audience. It allows you to personalize your messaging and target specific segments of your email list. It means that the right leads are getting the most impactful information at the right times. By sending wishlists, gift guides, or coupon codes through your email campaigns, you will remind your prospects and subscribers about the upcoming holidays. And not only that. By sending a newsletter, you will remind your leads and customers about your brand, raise its credibility, and inform them about the news.
Note: Don't forget to add order details and deadlines and what shipping option to select if they want their purchases to arrive on time.
Don't stop here! Keep on personalizing!
See how you can Create your first exit-intent popup

Start increasing your Online Sales today
Get a quick free consultation about your website.