As the countdown to Christmas starts, many are getting ready for celebrations that will look a little different this year. While consumers and business owners are continuing to adapt to the impacts of this pandemic, they've also been establishing creative ways to make this period a safe and festive one.
We know there's still some uncertainty about what this means for e-commerce this year, but we've put together some resources to help you make the most out of your online business during the holidays and kick off the season better prepared.
# Holiday Shopping Snapshot: 2019
To add some context for your online store's Christmas sales planning, let's go over some numbers from last year's holiday season:
*According to the National Retail Federation and Adobe Analytics
What customers were purchasing in 2019:
*According to the National Retail Federation and Adobe Analytics
What factors were driving Christmas sales in 2019?
Sales and discounts - the largest factor
Quality merchandise was the next-largest factor
Free shipping and shipping promotions
*According to the National Retail Federation and Adobe Analytics
Holiday shopping by generation
Percentage increase of consumers using their mobile phones to make holiday purchases from 2018 to 2019
Percentage increase of consumers that list mobile browsing as the easiest way to discover products and services from 2018 to 2019
Percentage of consumers relying on mobile phones for holiday purchases
Percentage of consumers who say option to buy online and pick up in store for holiday purchases matters to them
*According to Facebook's Christmas Shopping Insights Report
# What to Expect: Holiday Season 2020
As the pandemic continues to affect consumer purchase behavior, retailers are also adjusting to meet new expectations and safely continue operations. To better navigate this holiday season, let's take a look at some trends that are starting to come into focus as we head into December:
With
59% of consumers
having already started their holiday shopping as of early November and 42% starting earlier than they usually do, it's clear that the timeline of traditional BCFM sales has changed this year. This means that online retailers launching mid-season discounts are better positioned to drive revenue, and buyer activity will be more spread out during the holiday season. If you haven't started your holiday sales yet though, it's not too late!
With major retailers like Walmart announcing that their
stores will be closed on Thanksgiving
, e-commerce will likely play an even more important role during BFCM, and allow smaller business owners to make a larger dent in overall holiday revenue. By Adobe Analytics' estimates, online spending could exceed $3 billion dollars within a 24-hour period for 18 days, in comparison to 3 days in 2019, not including Thanksgiving weekend.
No surprises here! Across the board, preference for online retail is increasing. In fact, estimates show that U.S. online purchases will bring in $189 billion in sales this year, a whopping 33% increase from 2019 (Adobe). With up to
75% of consumers
projected to carry out at least some of their holiday shopping online in 2020, and 43% expected to conduct their holiday shopping solely online this season (for older millennials, that percentage jumps to 63%) e-commerce stores will play a much bigger role in driving holiday sales than in previous years.
Smartphones are quickly becoming online shopping's most valued sidekick. Projected to drive 42% of all digital holiday spending and rake in over $28 billion in holiday sales, Christmas mobile shopping could see a 55% growth in comparison to 2019 (Adobe). 70% of smartphone owners intend to make a purchase using their phones (Deloitte).
There's also been increased activity for shopping apps, with 51% of consumers saying they've downloaded at least one since March (Criteo). For online store owners, this means optimizing their site for mobile browsing, and, if a financially feasible option, potentially launching their own mobile shopping app.
Small businesses and corporate values
While many local businesses have been significantly affected by the pandemic, this also means consumers are increasingly prioritizing supporting small retailers, which are expected to drive more than $1 billion more dollars in sales when compared to 2019. (Adobe).
Consumers are also placing a lot of emphasis on company values and employee safety to make their holiday purchasing decisions, with 57% expressing a preference for businesses that supported their staff and customers during the pandemic and 41% opting to not shop with businesses that let employees go or reduced their benefits (Accenture).
In general, if faced with a choice, the overwhelming majority of consumers prefer free shipping (85%) over fast shipping (15%), and a reasonable time frame for the former appears to be 3-7 days (Deloitte). Customers are also less likely to pay high additional fees for express shipping, with 60% noting that they would not pay extra for 2-day shipping (Deloitte).
When it comes to logistical planning for online store owners, it's best to anticipate delays and encourage customers to get their holiday shopping done early. While major delivery companies like FedEx are adding tens of thousands of new staff members to meet demand, previous years' data points for online shopping are less reliable for predicting changes in consumer behavior and preventing interruptions to order fulfillment.
E-commerce store owners with brick-and-mortar stores can also consider alternative methods of delivery. The pandemic saw an increase in BOPIS (buy online, pickup in store) fulfillment and curbside pickup nearly doubled in 2020 (Deloitte).
One trend to note is that customers are starting to prefer these methods not only when compared to in-store shopping but also compared to standard delivery, since they offer a more immediate and less expensive option to retrieve their items (Deloitte).
Combining some form of these order fulfillment strategies can help store owners meet demand, and balance out potential shipping delays.
This year has brought about significant changes to consumers' way of life. 7 out of 10 customers plan to redirect at least some of their spending from experiences/services (e.g. dining out) to retail (Coresight).
With many now working from home and exploring different activities, purchasing decisions are likely to also be driven by an interest in non-gift items like holiday decorations, as consumers look to make their living space more festive (Deloitte).
Online store owners may benefit from taking into consideration how these shifts in behavior can inform their product offerings.
With all this in mind, it's time for the (digital) preparations to begin! Let's take a look at some of the ways your online store can get set up for the holidays:
Channel the holiday spirit on your website
'Tis the season for some merry decorations! Think cozy, festive and colorful. Christmas time is a season-long celebration and many consumers are looking for an online experience that reflects their offline anticipation of this widely cherished holiday. From your home banners to your landing pages, now's a good period to go all out and spruce up your site with some themed content. Even if your branding tends to be a little more minimalist, there's no need to miss out!
Consider adding holiday messaging and seasonal discounts to your site that still channel the festivities, but stay true to your year-round aesthetic.
Tip: For holiday designs that stand out, use red, green, gold, white, silver and purple!
Conversion-friendly site layout
The holidays can get hectic, so you want customers to be able to find what they're looking for fast, while also providing opportunities and incentives for exploration. To strike the right balance, add bold and intuitive call-to-action buttons, create thematically consistent categories, and minimize the steps needed for check out.
Consider installing software that allows visitors to view their cart while staying on the same page, and offer suggestions for similar products as they browse your site.
To build anticipation for a big sale, generate a sense of urgency, or let customers know that an item is low on stock, add countdowns!
If only orders over a certain amount are eligible for free shipping, you can also increase average order value by adding a banner that lets customers know how much more they need to spend to qualify.
Remember: Customers are making more and more purchases on their mobile phones, so make sure your site is optimized for any device!
Tip: To highlight special store features and information, consider adding a block on your homepage or footer that quickly summarizes what customers should know about your brand with visuals.
Getting your online store ready for the holidays may also mean switching up and adding to your product listings, packaging and collections. Consider including: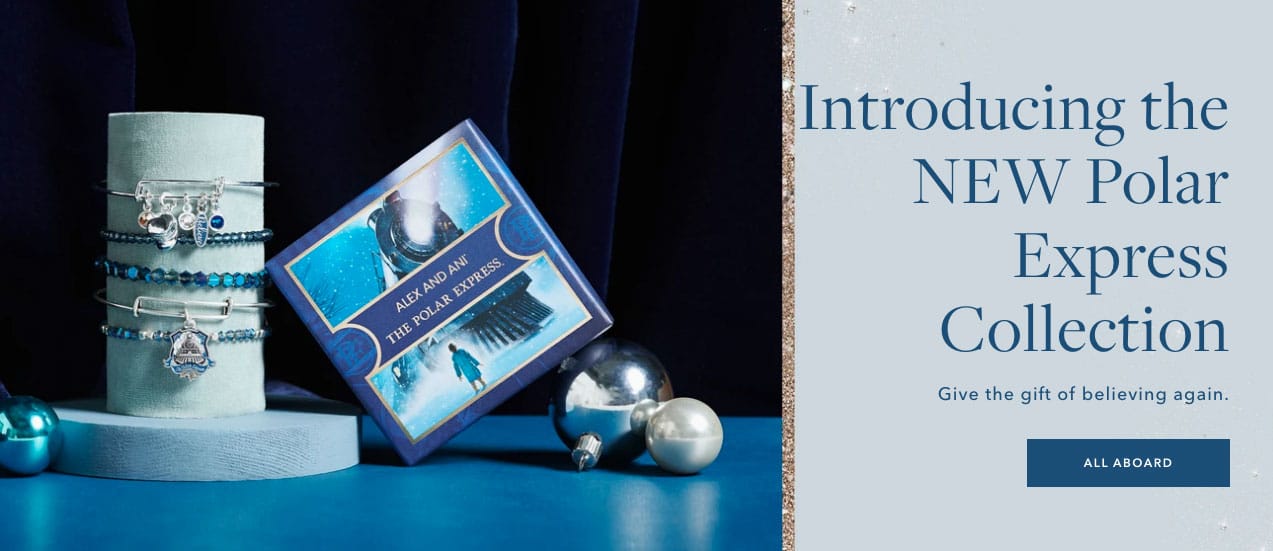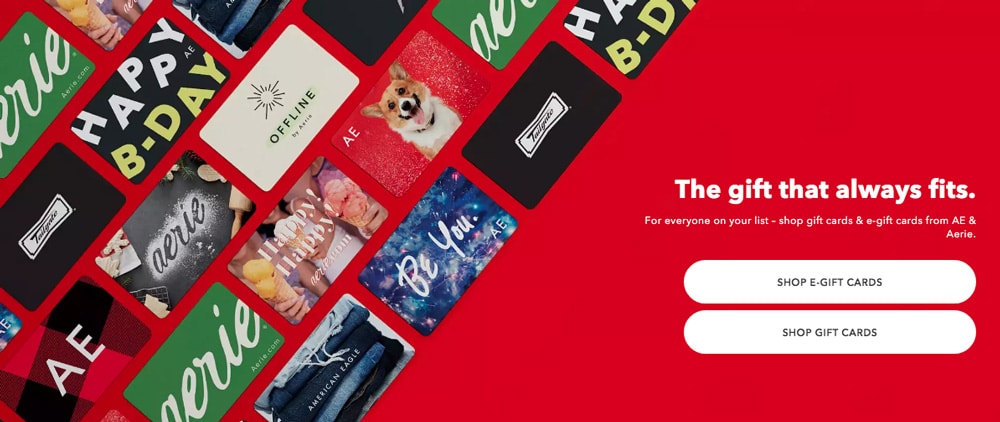 Plan your holiday promotions early
Get ahead of the game and figure out the types of sales you will be launching and when. Organizing all this before the holiday season gets underway will inform all your marketing strategies moving forward, and make it a lot easier to schedule content and coordinate messaging across your sales channels, particularly this year when Christmas sales are starting even earlier than usual.
Types of sales and promotions to consider hosting include:
While you're preparing your online store for the holidays, you can help customers prepare too by putting together curated gift guides to make their Christmas shopping more efficient and successful (not to mention give them lots of ideas to work with)!
The key here is to anticipate the categories visitors will find useful, and section out your gift guides accordingly. Some themes to consider are:
To make browsing more efficient, create visuals for each category and section them separately. Also, while your website is the main place you can showcase your gift guide, you don't have to stop there! Add your categories as Story Highlights on social media or send personalized suggestions by email based on your audience segments.
Tip: For increased engagement, consider creating an interactive gift guide!
The holidays can include some bumps along the way. It's good to be one step ahead of any potential issues and ensure that before launching any sales events, you're in a position to fulfill all expected (and unexpected!) orders.
Since many people are buying gifts for a specific day, delivery is particularly time-sensitive during this period, and will very likely be delayed this season. Communicate early on with your suppliers about the quantities of items you'll need and their capacity to stock and ship them.
Remember to account for last-minute shoppers to minimize delays due to order volume. Calculate your shipping times accordingly, adding a few extra days to be on the safe side, then let customers know when the last days to order for guaranteed Christmas delivery are.
Ensure customer support and F.A.Q. section
Your visitors have questions, and you've got answers! Keep channels of communication open for customers to reach out and check them often. This can not only help with your conversion rate, but also means that your visitors will have a better buyer experience. To quickly address questions that may come up and decrease the need for manual responses, consider automating your social media with answers to some frequently asked questions, or adding a separate F.A.Q. section to your website.
Tip: It's ok to not have all the answers! Responding quickly by letting customers know you'll look into their question is often better than long wait times until you figure it out. It assures them that someone is on the other end of the conversation, and that they don't need to give up on finding a solution.
Communicate safety measures to customers
Particularly if you have a brick-and-mortar store, you've likely had to make many adjustments to keep your staff, customers and everyone around you safe. Visitors may benefit from staying up to date on relevant measures, including those that involve order fulfillment. Consider offering curbside pick-up and keep customers posted on how they can safely enjoy their items.
Special Christmas pop-ups
Alright, so your online storefront's set up, and your holiday sales plan is lined up and ready to go. What's next? Now's really when you can go full speed ahead with your other promotional strategies and it's at this point we strongly recommend redirecting your efforts into creating seasonal and high-converting pop-ups for lead generation. An eye-catching pop-up can serve almost any marketing goal and it's important to have one up and running before the holiday traffic kicks in, so let's dive into how you can make the most out of yours during this season.
Types of pop-ups to consider setting up:
Particularly when it comes to your initial welcome pop-up, timing matters. If you want email subscribers that have engaged with your site, it's best to schedule your pop-up to appear a few seconds after visitors load your site rather than having it be the first thing they see. You can even time your pop-up to appear only after visitors have scrolled past a certain point on your home page or product pages.
When selecting the form fields you'll include in your pop-up, think about your future marketing goals, the information you'll need to reach out to customers, as well as the time it will take them to sign up. Usually, asking for visitors' email address is the simplest way to grow your subscriber list, since it means a faster sign-up process, but it completely depends on how personalized you want to make future promotions. For example, if you also intend to reach out to subscribers by SMS, consider adding an optional section where they can fill out their phone numbers.
Tip: Offer the option for visitors to sign up with their social media accounts. A social media login combines most of these options, so you get the benefit of a simple sign-up process, with the subscriber profiles of a longer one!
# Email Marketing Campaigns
For successful and high-converting holiday campaigns, implement a strategy for reaching out to your email subscribers. It's not only one of the most cost-efficient ways to spread the word about your promotions, but it can also lead to greater returns than other forms of marketing, since your audience includes those who have taken the extra step to stay in the know and likely already invested in your brand.
Tip: For optimal delivery rates, consider getting a customized email address (e.g. hello@sephora.com)!
For online marketers, the countdown to Christmas begins way before December. To keep your email marketing campaigns organized, it's best to plan ahead (and remember to reference your sales schedule you've created when setting up!).
We recommend splitting your campaigns into three sections:
Email marketing allows for the opportunity to create highly targeted and personalized newsletters for your subscribers, so make sure you're segmenting your audiences to get the most out of this platform! Remember that many email marketing providers charge based on emails sent, so categorizing your subscribers can not only mean less overall emails delivered, but also higher open and click-through rates. Consider basing your campaigns on some of these segments:
Types of holiday marketing emails
There are many different ways to craft your holiday newsletters, and email marketing offers tools to make informative, entertaining and festive messages to an audience that's already tuned in. Here are some topics to consider reaching out to your subscribers about:
Tip: Consider giving your subscribers early access to your site-wide holiday sales!
With the increase in newsletter sign-ups during the holiday season, it can be easy to lose track of audience segments. Double-check that your email marketing provider syncs with your pop-ups and e-commerce platform so that only customers that have actively opted to receive your newsletter are on your marketing list.
Remember: A customer eligible for transactional emails is not necessarily eligible for promotional emails, so ensure that no subscriber slips through the cracks and that only active followers are receiving your sales updates.
Light up your social media with the festive cheer
Your social media presence is an extension of your brand and provides a unique way to stay connected to your customers during the holidays. No two marketing strategies are the same across platforms but with a few adjustments, you can create effective multi-channel seasonal campaigns tailored for each separate audience. Read on for some tips on how to use each platform's strong points to craft buzz-worthy holiday content and grow your follower base!
Bring on the content planners! As BCFM draws near, more brands are using social media to promote their sales and consumers' attention is being drawn in all directions. Help the algorithm help you by maintaining a consistent posting schedule. Whether that's daily or a few times a week, keep your followers feeds' updated with festive content that encourages engagement.
Maximize use of social media features
Social media platforms offer powerful tools for promotion that are too good to pass up, and what better time to explore them than the holidays? Here are some features to keep in mind: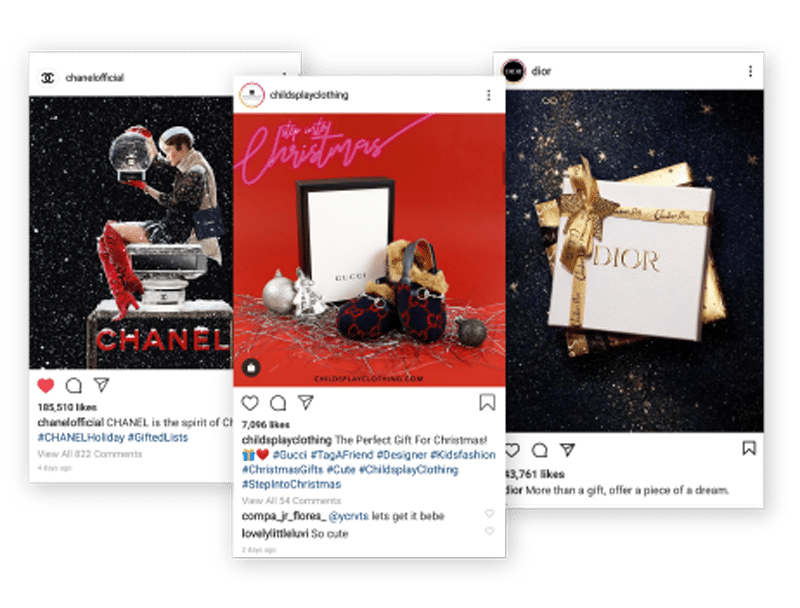 The more the merrier! Consider partnering up with influencers and cross-promoting fellow brands to widen the reach of your holiday social media campaigns. Select content creators in your niche with an engaged following and similar target audience for more effective collaborations.
Giveaways and follower-exclusive discounts
Giveaways and contests can be a great way to grow your follower count, and also an opportunity for those entering to submit valuable user-generated content. If you've just launched your social media accounts, if possible, consider partnering with another brand for an increased number of entries, like the example above!
Expand to other platforms
Yes, Facebook and Instagram are key players for widening your social media reach, but there are many other platforms out there that can help users discover your online business! Consider how your brand's messaging can be tailored for each site and its target audience and start exploring. Platforms to consider:
# Paid Advertising Platforms
No doubt about it, free marketing should be prioritized in your seasonal campaigns, but given how many consumers are already on social media and using search engines to carry out their holiday shopping, it's worth considering how to include paid ads in your marketing strategy. They may take a bit more resources to start with, but the powerful targeting options they offer can lead to much faster and higher returns than less expensive advertising alternatives.
Advertising channels to consider
The options you have for narrowing down the audience you want to target are what give paid ads a major advantage in generating sales. There's no limit to the combinations you can explore to market your holiday campaign so if you're just starting out creating audiences to target you can start with:
Tip:

If you're starting with Facebook Ads, take a look at

Audience Insights

to explore common themes among users based on a wide range of identifiers. For Google Ads, use its

Keyword Planner

to find holiday-themed search terms related to your products.
To help boost your conversion and sign-up rates, let's take a look at some ways to optimize your ad content:
Targeting consumers that have already engaged with your store can lead to much higher returns for your paid ads than other methods. If you don't currently have the budget to launch remarketing campaigns, that's ok! By installing a Facebook pixel on and connecting a Google Analytics account with your store, you can still collect data on website visitors and followers to create audiences you can revisit later on. Just make sure that users know and have consented to their information being stored!
# A Little Something Extra
By consistently updating your social media accounts and launching your paid ads, you're already in a great position to increase your holiday sales. If you're looking for ways to expand your marketing strategies though, here are some additional methods to consider:
Reward customers for taking specific actions in your store, and consider making it even easier for them to earn points during the holiday season! This increases the average lifetime value of members, and provides additional incentives to continue to engage with your brand long after the holidays are over.
Tip: Consider making the different tiers achievable enough so that customers are motivated to take action, but spaced out enough so that higher tiers require more commitment.
Affiliate and referral program
Some of the best advocates for your brand can be those that have already purchased from your online store, or content creators that have established high credibility and an engaged following. Launching an affiliate or referral program not only provides additional payment methods for collaborations, particularly when you're exploring influencer and content marketing, it can also lead to some of the most high-converting visitors, since shoppers are more likely to take recommendations from those that they know than individual brands.
Maybe a customer ordered from your store and is ready to rave about what they got – with a reviews program they not only can, they can make it public on your site! Consider offering the opportunity to buyers to broadcast their positive experiences with your brand. A review program generates social proof, and can also be the extra push that leads potential customers to follow through with their order. Plus, if your business is highly rated on consumer review sites like TrustPilot, consider displaying a relevant badge on your site to help your business establish even more credibility.
Sometimes a visitor may really like an item on your online store, but they're not in a position to make a purchase and still want to revisit the listing in the future. With a wishlist feature, they can easily save it on your site and come back to find it when they're ready to order! It provides them with an additional way to connect with your brand and if they're a subscriber, you can also send them a reminder email of what they've bookmarked. A wishlist feature is also helpful for a "Win your Wishlist" holiday giveaway!
# Checkout Optimization and Cart Recovery
As the final steps of the conversion funnel, setting up your abandoned cart recovery sequences and creating a seamless checkout process can be one of the most effective measures for boosting your conversion rate during the holiday season. Consider implementing some of these strategies as you get ready to launch your festive sales:
Multi-channel abandoned cart campaigns
With the potential to recover up to 18% of abandoned carts, cart recovery campaigns can be an especially powerful marketing tool during the holidays. While in general it can be useful and less overwhelming to stick to one platform when deciding how to set up your abandoned cart campaigns, it doesn't have to be email! If your pop-up lets visitors sign up with their phone numbers or social media logins, you can set up your cart recovery sequence to be delivered by SMS or Facebook Messenger for higher open rates! Just make sure that the information required doesn't interfere with a quick sign-up process on your pop-ups (e.g. in this case, you can make including a phone number optional so that users can still sign up with just their email).
Remember: abandoned cart campaigns are considered promotional, so visitors do need to be subscribers to be eligible to receive them!
Schedule your first notification to be delivered around one hour after delivery, and for some extra encouragement to complete their order, you can add a discount in the final notification of your abandoned cart recovery sequence.
Tip: If you're sending your abandoned cart notifications through email, consider adding extra product recommendations to the footer!
Recommend upsells and cross-sells
Upsells and cross-sells are the online equivalent of those travel-sized goodies you see near the cash register. Adding some last-minute recommendations right before a visitor goes to check out can increase your average order value, and, if you're also offering a free gift with purchase, can be the incentive needed for them to complete their order.
Increase your accepted payment methods
With digital wallets on the rise and with
over half of consumers
planning on using them for their holiday shopping, providing additional payment gateways can translate to a faster checkout process and make customers feel even more secure inputting their payment information. Note: If you have a Shopify store, with Shopify Payments, you can add PayPal, ShopPay, Google Pay, Apple Pay and Amazon Pay as extra payment gateways!
During the holidays, customers can get pretty busy. Making their Christmas shopping a little easier by offering gift packaging is an additional festive touch that can encourage visitors to follow through with their purchase. Gift wrapping features can include removing the price tag and providing instructions for potential returns. You can also include the option for customers to add a personalized message for additional customization.
# Post-purchase Experience
A customer's experience with your business doesn't end after they've submitted an order. In fact, what happens after can just as easily influence consumer preferences. Building on customers' engagement with your online store is an opportunity to increase brand loyalty, establish credibility and encourage repeat purchases.
In general, mistakes can happen! How you resolve them can be just as if not more important for customers in ensuring that they have a positive overall post-purchase experience with your brand, so don't worry if not everything goes according to plan!
No matter how you choose to launch your Christmas sales or how you're celebrating this year, we hope you have a very successful and safe festive season. Happy holidays!
Start increasing your Online Sales today
Get a quick free consultation about your website.