Creative Father's Day Contest Ideas –
How to Grow Your Audience?
There are many occasions during the year that are perfect for online marketing campaigns. Often overlooked is Father's Day, a celebration of Dad's everywhere, and one where a lot of money is spent on gifts.
Standing out of the competition, attracting new followers and customers, entertaining the existing ones, and showing appreciation to the loyal ones require lots of effort. To capitalize on Father's Day and boost your sales, you have to include in your online promotion strategy the following key components – creativity, customer segmentation, and marketing automation.
Father's Day is one of those ideal occasions for a specifically targeted audience, yet is also one that will bring you younger and older viewers and participants. The younger generations want to show their appreciation and love for Dad, and the fathers themselves can also get involved if you plan things right. Before we look at some great Father's Day contest ideas, let's talk about your ultimate aim.
There are two particular aims to running a Father's Day campaign: to grow your audience and to increase brand loyalty. These two go together and should always be considered when planning your marketing campaign.
In the following article we will look at how to achieve each aim via many different types of campaigns, so let's talk about the first idea which is one of the simplest of all.
Direct Quizzes are the Simple Solution
A Father's Day quiz is a great idea and one that can be easily promoted using your social media platforms. Your Facebook page, Twitter feed, and Instagram all offer an opportunity to run a quiz. So, where do you start?
The most important factor is your brand and the relatability of your question or questions. We recommend keeping the questions short and simple, but always relevant to your brand.
Example Question Ideas for Father's Day Quizzes
For example, let's say you're a food delivery service. Your questions could be:
"What's Dad's Favorite Meal?"
"How Often Does Dad Cook?"
"What Do You Remember About Dad's Cooking?"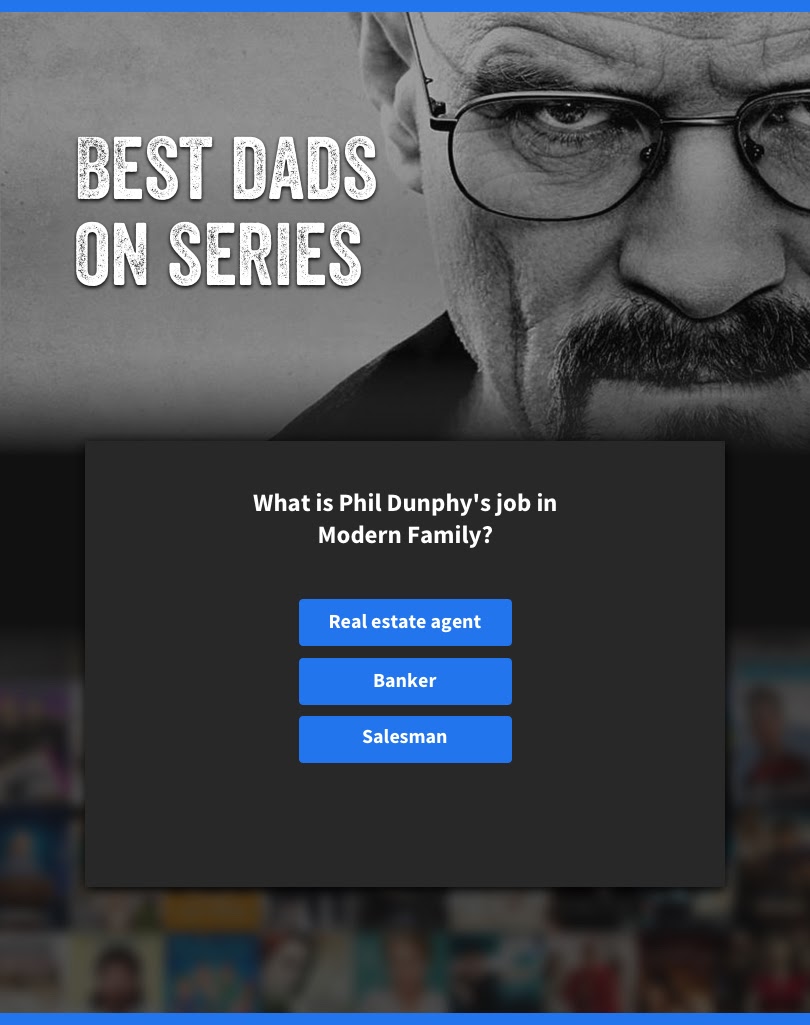 The final question there allows for some amusing answers, so brings a fun element into the quiz idea. Of course, there needs to be an incentive for entering. This could be an entry into a prize draw to win a free trial, or a discount offer. Make sure you get the participant to like or follow you in order to enter. You should also ask for an email address, as this type of competition will allow you to build your database for future marketing campaigns.
Single Question Contests for Quick and Easy Uptake
Time is at a premium for many of your target audience, so what about a competition that uses just one question? You could ask entrants to like and follow and provide an email, and then answer a question about their Dad. This way you will collect their contact details and enrich your email database.
For example: "What Is Special about Your Dad?" The best and most original answer wins a prize, and you get more names and addresses as well as great social proof on your social media pages. Appealing to the participants' emotions in this way is something we'll talk about a little more before we finish.
User Participation Gains Loyalty and Fans
The simple fact is that any level of user participation gives the consumer satisfaction. If there is something to be gained – whether that's a possible prize or a one-off discount for entering the competition – then you are more likely to grow your customer base.
One of the popular and suitable Father's Day contest ideas is a 'Pick Your Favorite' competition. This option is fun and takes little time, and can gather information and draw in new customers.
Online consumers like images. For the food delivery example we used, you could put up three pictures of meals and ask them to choose Dad's favorite. A fashion brand could picture different styles of men's clothing on a model, and ask the same question.
Taking this further you could also picture three cartoon dads and ask which is most like their father. Once again, this brings an element of amusement into the game and invites fun.
In every case, you need to remember the data capture part of the campaign, and we can't stress enough how important it is to gain likes, follows, and an email address from your social media followers.
Sweepstakes Invite Participation
An idea used widely on social media – and lending itself best to the likes of Twitter, Facebook, and Instagram – is a sweepstake. Simple and effective, all you need to do is invite that simple follow or like, and also a share. The latter is an important part of increasing brand awareness.
By using Father's Day as a sweepstake opportunity you could offer relevant gift cards or a discount. Consumers appreciate discounts as it gives them the feeling they are getting something for nothing. The only businesses that would not be suitable for Father's Day campaigns are those aimed directly at women.
Perfect for Many Market Sectors
We've already mentioned food and fashion, and other areas that are ripe for Father's Day sweepstake campaigns include various products, beverages, gardening, tech, watches, sports, and many more.
Remember that share: if you include as part of the participation sharing the post with two friends, for example, you are spreading your reach, gaining potential new customers, and increasing customer satisfaction in one single hit.
Photo Contests Can Be Great Fun
The above options all involve little in the way of effort yet yield great results. A photo contest requires participants to spend a bit more time. The possibilities, however, are simply vast with this sort of Father's Day marketing campaign.
Once again, it's your social media pages that do the work for you, with the usual three major platforms each suitable for this idea. It's possible that it may work best on Instagram, but Facebook and Twitter are also popular choices for photo competitions.
You could choose a nostalgic theme: perhaps ask users to upload pictures of their Dad when he was young. Perhaps a wedding theme would be appropriate to your business, or ask for pictures of dads in their working environment?
Further ideas include pictures of dads in funny or embarrassing situations, dads on holiday, being photobombed, and so on. There is such scope with this option that it may be one of the best Father's Day promotion ideas.
Remember to ask for likes, follows, and email addresses as a requirement for participation in the Father's Day contest, and offer prizes or discounts. Always include the something for nothing element as it helps build your customer base and promote your brand.
We've talked about appealing to the emotions of the consumer in brief, yet we believe this is an area that is of paramount importance when using an event such as Father's Day to promote your brand.
Consumers like to be involved and respected. Taking the photo contest idea a step further, you could consider inviting your target audience to enter a short text about their dad. Twitter is ideal for this as it allows only brief messages.
An example: tell us in no more than 12 words why your father is the best. Or ask them to tell you a funny or moving story about Dad. There's plenty of scope for originality here, so use those suggestions as inspiration.
Dads are special, and Father's Day is an occasion that they and their families enjoy. By tapping into this natural element of nostalgia and love created by such occasions, brands have the perfect opportunity to enhance brand awareness, increase loyalty, and invite new customers via fun and rewarding promotion.
Many of the Father's Day contest ideas above can also be applied to other annual occasions, yet we believe Father's Day is perfect for a wide variety of retail brands, online businesses, retailers, and service providers, so take our contest ideas on board and make sure you use the occasion effectively. If you are looking for more marketing ideas for Fathers' Day? Check out our other article here and for more seasonal tips head on over to our e-commerce guides here.
Don't stop here! Keep on personalizing!
See how you can Create your first exit-intent popup

Start increasing your Online Sales today
Get a quick free consultation about your website.