The phenomenon that is Black Friday has been joined by Cyber Monday in recent years thanks to rapid growth in eCommerce and online retailing. If you have an online store on Shopify, you will want to read on. We're going to look at how to get your store ready for Black Friday and Cyber Monday, what you should be doing to promote the occasion, and how best to get customers to spend more with you.
Let's begin with a little bit of history about the origins of Black Friday. How did it begin?
A Brief History of Black Friday
There are a few stories about the origin of the Black Friday sales but there's one in particular that seems to be the origin of the term. In the 1950s there was a traditional Army vs. Navy football game held in Philadelphia. One year, the local police were so overrun with both pedestrian and road traffic on Friday before that they labeled it 'Black Friday.'
In terms of commerce, however, the phenomenon didn't get up to speed until the early 1980's when marketers began to understand the power of psychology on the consumer. By labeling the Friday after Thanksgiving Black Friday they implied that they would be 'in the red' up until that very day, hence celebrating with discounted offers.
The simple fact is that consumers like a good deal, and nowadays Black Friday is not only a tradition in the USA but has also spread to other countries, and online retail and eCommerce. Cyber Monday came about in 2005 to promote eCommerce shopping, and the two days bookend has become a four-day spending spree in the USA. How important is it to your Shopify store? Let's talk numbers.
Black Friday Cyber Monday – we'll label it BFCM from now for simplicity – is the traditional start of the Christmas holiday shopping season. As far as eCommerce goes, look at the following figures which apply to Shopify stores alone:
Those are just a few statistics that give a clear idea of why the holiday shopping season is essential for eCommerce businesses. Now we'd like to move forward and talk about how to set up your eCommerce store for the Cyber Monday weekend, and what options you have for Black Friday promotions and some additional Black Friday marketing ideas about attracting customers to your online store. Before we do, there's one important point to make: today's consumer wants quality service and likes to support smaller businesses. With this in mind, Shopify stores need to ensure that what the customer is promised, the customer gets. So, preparing for BFCM; what's it all about?
Preparing an eCommerce Store for Black Friday - Cyber Monday
The upcoming holiday season promises to be record-breaking for Shopify stores and across the eCommerce world. You need to be prepared and ready for increased traffic, and also for a rise in demand. But that's not all. Let's run through some of the preparations you should be making now in advance of the BFCM weekend.
Start by Planning Your Offers and Discounts
What are you going to offer your customers? Are you thinking of discounting popular selling products? Or perhaps you are considering reduced or free deliveries on orders beyond a set price? We suggest you have a look at what has been selling on your Shopify store and target those items for promotion. However, there are many other things you need to think about if you are to cope with the sudden influx of extra orders. Let's have a look at the areas of your store that need attention.
Ensure You Have Stock and Can Fulfil Demand and Expectation
You know best what your customers will buy. You also know what they expect from you in terms of fulfillment, customer service, and the overall shopping experience. Consider the statistics that we mentioned earlier. You need to plan for colossal growth over the four days. Ask yourself these questions:
Each of the above needs a definite 'yes' as the answer. You cannot let the customer down over the BFCM weekend as they expect the usual efficient and prompt service they usually get from you. So, be prepared and expect greater demand than you anticipate, and you should be ready for the weekend.
Get Up to Speed with Visitor Behavior Analysis
Is your store as neatly planned as it could be? Are there areas that consumers believe could be improved? There's only one way to find out – ask them! Run a brief questionnaire offering entry into a prize draw asking your regular consumers how you can make your store better. Then see what you can do before you launch Black Friday sales.
One particular area of potential improvement is your checkout. You need to ensure it is as simple as possible to use, has the right payment methods, and doesn't require the customer to spend a long time filling in details. There may be other areas that your customers comment on, so have a go now and see what you can find out.
Refresh Your Landing and Other Pages to Promote BFCM
Fresh content is essential when moving from one promotion to another, and this could be the most lucrative one of all. Ensure that your landing pages, product pages, and other areas of the store shout out the BFCM promotion. Make it loud and clear what you will be offering and add a teaser about some surprise offers (more about that later).
You need to start building awareness on your social media pages, blogs, and other areas of marketing, giving BFCM the main stage and building that buzz about your brand. Use new images, new text and keep at it until the weekend itself. You want the world to know that your Shopify store is the one to be at on Black Friday.
Attend to the Abandoned Cart Problem
Anyone in the eCommerce markets is aware of the problem of abandoned carts, but it becomes a greater problem when traffic to your store increases suddenly for the Black Friday weekend. Figures differ as to the rate of cart abandonment, but industry analysts agree it is somewhere between 70% and 80% across all markets. You read that correctly: 70% to 80%!
Let's put that in context. Shopify stores collectively made a whopping $6.3 billion in sales globally between Black Friday and Cyber Monday in 2021, a 23% increase from 2020. That figure is a mere 30% – perhaps – of what could have been taken! Now, it's never going to be the case that cart abandonment is eliminated completely, but it can be reduced.
Many retailers use an email marketing campaign that automatically targets visitors who have abandoned a cart. Others do it by SMS marketing and some on the store itself with pop-ups and other messages. The basic premise is to offer an incentive to the customer to return and complete the transaction. Whether this is a discount, a promise of a future discount or free shipping is for you to decide, but you must have something in place to tackle cart abandonment. If you can recover just a small percentage, it is worth the effort.
Retarget Past Customers and Existing Customers
Before we move on to look at other areas of preparing your store for BFCM we have one final tip that you should follow. Your customer base will have details of many customers who bought something once, for example, others who registered and have not made a purchase, and those who were regular but appear to have moved on. These are potential Black Friday customers. Run an email marketing campaign targeting them with a message highlighting the fantastic offers that you are running over the weekend. Once again, you may only succeed in bringing a few backs to your brand, but every single one counts.
So, we know that BFCM is a massive deal for both Shopify stores and their customers, and we've looked at a few ways of preparing both for the big event. Now we want to talk about promoting the Black Friday weekend in more detail, so let's have a look at some ways of getting your brand awareness up.
Black Friday Marketing Ideas for Shopify Merchants
It's important to stress that from now until the BCFM weekend – Black Friday is on the 26th of November in 2021 – your marketing campaigns should be entirely focused on the event. You are aiming to get your customers excited and in anticipation of superb deals. Your Black Friday marketing campaigns need to be big, bold, and everywhere. We'll shortly be suggesting some ways and means of promoting your BFCM deals, but before that, we want to talk about marketing channels that should be a part of your BFCM strategy.
Which Marketing Channels Offer the Best Conversion Rates?
As an eCommerce store owner, you will use all or some of four major marketing channels: email, direct marketing, social media, and search engine optimization. Which offers the best conversion rates?
Shopify's research shows that email remains the most successful with a 4.1% conversion rate (data taken from BFCM 2020). Search engines rank next and offer a 3.9% conversion rate. Direct messaging offers 3.6%. It may come as a surprise to some that social media marketing returns the lowest figure at just 1.9%.
However, this does not mean you should put all your effort into the big three and ignore social media. Social trust – in which your brand is seen to be trustworthy by way of 'followers' and 'likes' on social media platforms is an essential part of eCommerce marketing. We would suggest that you use all four channels in equal measure, to get the best out of your online marketing campaign. What methods to use to push your Black Friday event? That's what we will talk about next.
Some Proven Methods of Attracting Black Friday Customers
While some of the following methods are identical to those you will already use in your social media marketing there will be differences in the approach and in the message you are putting across. Remember what we said above – from now and for the next few weeks you are all about the BFCM weekend. Here's a list of some practices you can implement to increase your Black Friday traffic.
Optimize Your BFCM Landing Page
We have already covered this subject but it's worth revisiting briefly. Your landing page – indeed all pages – needs to get across the Black Friday message. It should be prominent on the home page, product pages, and any others that your visitors follow. It need only be a simple ad or banner, but it needs to be pushed firmly to get the point across.
Pop-ups are a successful method of grabbing the consumer while they are browsing your store. That they are already there shows interest at least, and you can use automated pop-ups to place your BFCM upcoming deals in front of them while they are already with you. A simple yet direct message – 'Don't Miss Our Black Friday Specials' or similar – will encourage them to make a note to check your store out on the event.
Pop-ups can also be used to tackle cart abandonment, and to encourage visitors who stay a long time on one page. Simple, effective, and noticeable, start planning your pop-ups now and get them on the site in advance.
Wishlisting has become a commonplace marketing technique in eCommerce stores. The idea is that you send the customer an email, message, or deliver by pop-up an invitation to create a list of items they want to see in your Black Friday sale. This method works well in the few weeks leading up to Black Friday – as well as those preceding the holiday season – and gives you insight into the product ranges you need to be considering for your sale. Wishlists can also be encouraged on your social media pages.
Personalized Product Recommendations
Research has proven that online shoppers will respond more readily and positively to messages that are personalized. 59% of subscribers to a store say that personalized email messages will influence their decision to buy. Personalization should be in the form of using the consumer's name and sending a message that is not over-formal.
You know their past purchasing history with you, so you could send a message such as 'Look Out for Your Favourite Products on Black Friday!' This sort of reminder marketing encourages them to make a note to visit at the time. You could also use it to promote similar or related items in the run-up to BFCM.
Notifications and Success Messages
By success messages, we mean encouragement and inspiration. In this case, it could be a quick SMS wishing the customer luck with their Black Friday shopping, with a link to your store and the items you might be discounting. Always leave a touch of mystery there as you want your customers to have increased anticipation in the weeks to come.
Perhaps mention some items and leave them waiting for information about others. Building expectation is a proven way of keeping a consumer interested and onboard and can be done using all of the main marketing channels.
Promote your BFCM event using sidebars. This method is perhaps the least intrusive of the on-screen routines you can use to grab the attention of holiday shoppers while they are browsing your store. Simple and effective, this can be fully automated and may even be personalized. By using your customer's purchase history data, you can accurately target the right people in the few weeks before Black Friday.
We understand that not all Shopify stores can afford to offer free delivery on orders over the BFCM weekend but if you can it is a winner. Consumers love anything for free and do not like to pay excessive delivery charges. You may wish to offer free delivery on orders over a certain amount or discount codes. This does encourage consumers to spend more as it is one of the most obvious psychological enticements of all. Free equals a bonus in the mind of the consumer, even when they are spending more than they intended.
One further key point on shipping: not only will consumers be encouraged by free shipping over a certain amount, but they will also be more likely to pay for the service if it is next-day delivery or express. Make sure that your standard delivery time is no more than a few days as this will put customers off, and if you can offer express delivery then it pays to do so. Be careful not to promise delivery times that you cannot keep.
An effective Black Friday routine is to offer a free gift card to a certain amount with every purchase over a set value. This is a simple enticement that again draws on the consumer's desire to get something for nothing. The free gift offer can be physical or virtual and may give the customer a half-price or reduced-price deal or exclusive discount on certain products after the Black Friday event. Enhancing customer retention in this fashion has been shown to work in many market sectors. Your loyal customers will appreciate it. It's also a proven technique to increase the average order value.
Time-Related Special Offers
The BFCM weekend is an ideal opportunity to boost sales even further using time-related exclusive offers or flash sales. Let's say a consumer is in your store and already has a couple of items in the cart. You could have an automated pop-up offering a discount on related or complementary items if they buy them within the next half hour (or whatever time you wish to use) or you can use Facebook or Instagram stories to promote your time-limited offer.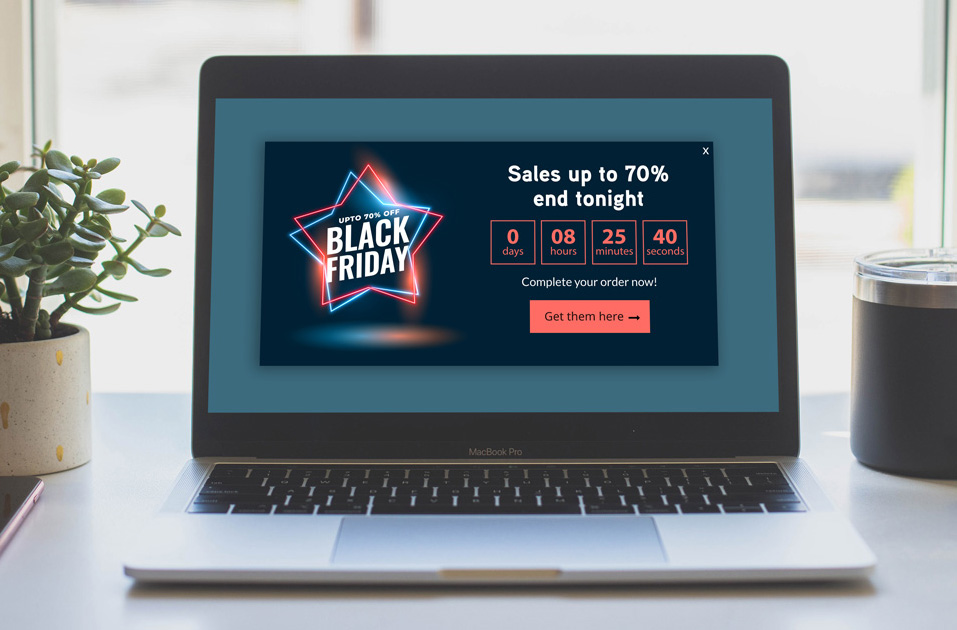 It doesn't have to be a discount on the product; you could also offer free or cheaper shipping if they complete in time. Time-related or limited deals are great when encouraging visitors who are spending a lot of time on one page and have a proven success rate. Again, this is playing with consumer psychology and giving a deal they appreciate.
Gamifying Promotion Techniques
A common technique for increasing sales on Black Friday at Shopify stores is the game approach. Invite your visitors to 'spin a wheel,' for example, for freebies or discounts. Or use a virtual scratch card. This is simply a way of keeping your visitors on your site for longer. You can also use this method on social networks sharing social media posts to encourage consumers to participate or running Facebook ads to reach more potential customers.
Similar to messaging consumers about related products is this method, the bundle offer. Your customer has a hair color and shampoo in their cart, for example: now a pop-up offers them a conditioner or other hair product at a discount price if they buy it all together. Another example of the something for nothing enticement is a popular method of boosting your sales across the BFCM weekend.
Some Proven Methods of Attracting Black Friday Customers
While this article does not cover every possible Black Friday marketing idea, we hope that we have given you sufficient information and inspiration to start planning and devising your BFCM event. This is a genuine chance to reap rewards by way of simple yet effective marketing techniques. Remember that the customer is already expecting and anticipating BFCM deals that they will appreciate, so all you need to do is decide what to offer, ensure you have everything in place, and you're ready for the biggest Shopify weekend of the year. You can find more Black Friday marketing ideas for Shopify stores here.
Start increasing your Online Sales today
Get a quick free consultation about your website.