The back to school season considers a significant retail holiday and one of the main marketing opportunities of the year. For the Shopify store owners, it's a great chance to get on board and boost their sales and profile. That means that Shopify retailers have to put lots of effort into designing effective back to school marketing campaigns to achieve particular results such as raising awareness of the brand, increasing online sales, or generating more revenue.
Planning back to school marketing campaigns and promotions is a compound and yet straightforward process. Various components of marketing campaigns such as interesting posts or videos, specific landing pages, valuable website content, catchy slogans, or incentives should be aligned around the goals that you want to achieve. Hence, defining goals is crucial to the effectiveness of your back to school marketing promotions and the first thing on your to-do checklist.
Making a stand-out back to school campaign and breaking through the noisy and crowded retail landscape can be tough and challenging. It certainly requires lots of testing. What is sure is that by combining good storytelling with multiple digital marketing channels and components, your campaign will be successful.
Creating a persuasive message around your back to school offer that will resonate with your customers' needs and expectations will encourage them to take action.
Typically, retailers try to reach their consumers and customers through a variety of media both traditional and digital. Online marketing benefits e-commerce businesses of all sizes by giving access to the mass market at an affordable price. Unlike TV or print advertising, it allows truly personalized marketing.
Let's see what you should do to promote your back to school offer!
Buck up your social media with the Back to School promotion
Social networks work great if you want to approach the audience in a more personal, tactful manner, to inspire your customers and directly interact with them. Back to school season brings numerous promotional opportunities and chances to build trustworthy relationships with your consumers and loyal customers. The good thing with social networks is that they offer multiple options to Shopify stores and e-commerce businesses – from branding and soft sell to hard sell.
Not necessarily your offer should directly relate to selling school supplies or alike. Provide value to your customers. Create something that they will like or find useful or playful or interesting. For instance, you can get more eyes on your brand by cheering up the kids and students, assisting their parents, or honoring the teachers and professors. Now, you're probably wondering how? And here we come to creativity.
Visual and colorful content works well on this digital marketing channel. Videos and GIFs are an ideal type of content for grabbing people's attention. 
Even simple but colorful images and a persuasive copy can bring impressive results. A simple tweet can be enough to drive social engagement.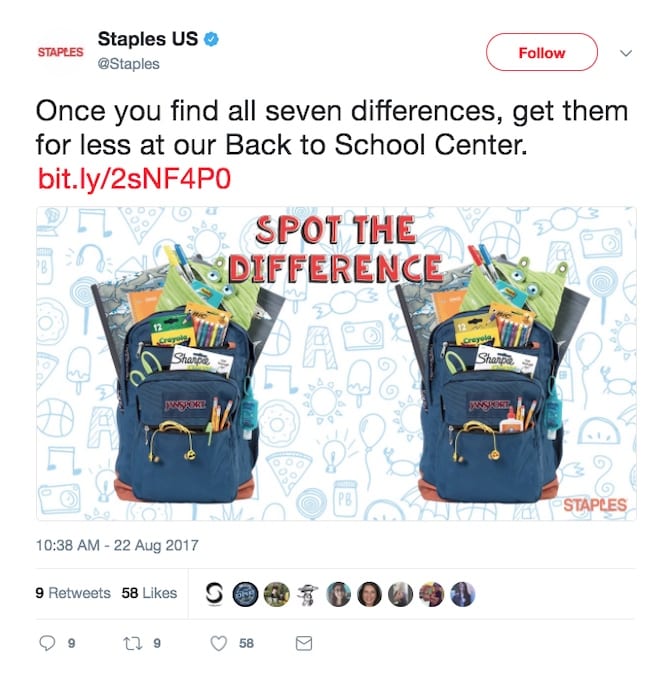 Type of content that people will actually enjoy
Create colorful content to encourage your customers to share the school-centric content on social media and interact with it. You can use proven marketing tactics such as contests and giveaways.
Make your promotion playable and collect identity data through integrated entry forms.
Take your consumers beyond with creative contests and promotions. Collect user-generated content as well as identity data. With Facebook contests, you can attract more visitors and engage better with your loyal customers.
Boost engagement with back to school giveaways on Facebook, Instagram, or Twitter. Undertaking actions that are very near and dear to consumers' hearts such as giveaways can help you in many ways.
More than 91% of back to school-related Facebook posts, photos, and videos are shared on mobile, according to the Facebook report. That's 10.5x the volume of conversations that happens on the desktop. A lot of those conversations are coming from women, who share on mobile 71% more than men.
Choose the right colors for the Back to School campaigns
Every season is associated with specific colors as well as the back to school season. It's that time of the year when kids and students are returning to schools and universities, ready to tackle another year of learning and meet old friends. Colors have a massive effect on people. Hence, creating positive, colorful experiences can play a key role in the overall success of your back to school promotion.
The optimal palette for back to school promotion could include, for example, a softened sage green paired with a pop of orange catches. Softened yellows are cheery and warm and combined with nature-based greens that are associated with autumn, new start, and productivity.
A monotone color scheme tends to not work for kids and for most of the people, as the lack of color doesn't engage their senses. So, better avoid it unless your promotion sends a very specific message by using a monochromatic palette.
The imagery with brightly colored products immediately catches the eye of the recipient.
Light up your back to school marketing campaigns with sponsored ads
The greatest advantage of online advertising is the ability to reach your customers whenever and wherever they are and not only that but also to target a specific segment of your customers.
Perhaps one of the biggest mistakes retailers make is focusing on kids and their parents only. Depending on what your assortment is, that might have sense. But it's not that they are the only consumers interested in back to school shopping. Before the new school year kicks off, teachers, professors, and other schools/college staff also search and buy various school items to keep classrooms supplies topped up.
If you want your back to school campaign to be successful you have to know exactly which segment you want to target. If your offer relates to different segments then you need to create multiple campaigns and optimize their messages towards different segments. The same marketing message will resonate with parents differently than with students or teachers.
Once you have your ideal target audiences defined, it's time to reach them and show them your offer. So, your next step is to choose suitable PPC networks:
As a new school year approaches, many shoppers will be searching online and buying online. Before making those purchases, people turn to search engines to find information or to compare offers and deals. That's the moment when you can intercept them with your ads. For instance, Google shopping ads generate higher click-through rates and higher conversion rates, while being at a reduced cost per click in comparison to search ads.
Facebook offers a multitude of targeting options for your business.
You even create a custom audience with people who made back to school purchases in previous years by uploading a CSV file with their email addresses. Use this audience to create a lookalike audience filled with similar prospects to target.
Overall, social media campaigns ensure better engagement with your brand by being more interactive.
Give your Back to School ads a destination
Before anything else, prepare a dedicated landing for your back to school campaign. This page gives your ads meaning. It is the final step in a series of actions that users need to take before the end goal. So, it needs to greatly please your customers and convert them faster. What should you do?
Boosting Back to School sales with email marketing
Unlike other channels such as social media or pay per click networks, email marketing has the highest return on investment. Obviously. You own your email list and you can reach your newsletter subscribers any time you want without any cost.
By analyzing and segmenting your email list, you can create several email campaigns with different messaging for different segments and go after them with relevant resources and offers. It will enable you to sell plenty of items that are not necessarily school-related products. That says, don't blast an email out to your entire list, instead use segments to ensure that subscribers only receive offers that are relevant to them. Generally speaking, segmentation is your best friend. It enables you to deliver more personalized content and relevant product recommendations.
Let's look at interesting ways to make the most of your back to school email marketing campaign.
If you want your emails to stand out in your subscribers' inboxes, you have to make a serious effort to incorporate new techniques and the right messages. For instance, using a GIF or countdown timer in your main message can strongly emphasize your offering for those who are ready to head back to school.
You can capture plenty of parents and students in the early stages of school shopping by sending them
You can also create a sense of urgency by sending out reminders about the days left to the end of your offer. Anticipation leads to higher customer engagement, and engagement leads to additional sales.
Interestingly, 65% of back to school shoppers say that most of their purchases are a direct result of their children's influence. Bear that in mind when you consider the design of your newsletter. Make it kid-friendly, with plenty of bright colors and fun fonts and high-quality images to showcase your best products. Though, don't forget to highlight the benefits for those who are paying for the items. Last but not least, write eye-catching and attention-grabbing email subject lines, add some emojis.
Cart abandonment email is a mandatory part of any well-designed email marketing strategy. Automating abandoned cart emails will help you recover a decent portion of lost sales. Drive attention to anything that might get your customers across the line such as free delivery, urgency about delivery dates, or low stock. It's also important to set cart abandonment emails to be sent within an hour of the shoppers leaving their checkouts. In combination with an exit-intent pop-up at the checkout, you'll get an effective and yet effortless solution to recover lost sales.
While preparing your back to school marketing campaigns, bear in mind that you are not selling only discounted products or school supplies. Neither of your customers are looking only for cheaper products. For many of them back to school season is a very emotional time. Some kids will leave old friends and start the school year in a new and unknown environment. Many college students will start their colleges far from their hometowns. Use these emotions in your marketing promotion. Show that you care. Connect with consumers on a deeper emotional level. That's how you create value for your customers and get in return their loyalty.
See how you can sync leads collected with Socital on-site campaigns to your mailing list

Start increasing your Online Sales today
Get a quick free consultation about your website.