The back-to-school season is considered one of the significant summer holidays. Many retailers can improve sales by taking advantage of young people's big moments. Then there are the parents, teachers, and the schools themselves, all of which are targets for growth. Back to school season is a unique opportunity to clean your stock loaded with school supplies and school products.
Generate Buzz on Social Media
Young people love social media, as it plays a massive part in their lives. When we're talking about Generation Z – generally described as those born between 1997 and 2012 – we are talking about the digital generation.
Social media is much more than Facebook, Instagram, and Twitter; it's about TikTok and video content. TikTok is a powerful platform for targeting students, who will respond more readily to video than static ads. It's what they expect, and online retailers need to get on board. Almost half of US adults between 18- and 29-years old use TikTok; that's a statistic you cannot overlook.
Therefore, your social media should be a crucial part of your back-to-school marketing plan.
Youngsters Listen to Influencers
More than 70% of Millennials and Generation Z follow influencers. Teenagers are likely to follow many. Influencers have replaced celebrities as the trusted voice for social media users. Get an influencer relevant to your target sector on board, and your social proof ranking soars.
Use also paid ads as they are a necessity of any marketing campaign, but don't mistake influencers and micro-influencers as a passing fad – the younger generations have a lot of faith in these people and spend a lot of their time on social media.
Don't Forget Parents and Teachers
If your business sells school supplies and products for young kids, you have a potential customer base in the parents. Look for Instagram influencers who operate in the niche or who have children. Find parenting blogs where you can get your brand talked about and set up an affiliate scheme. You can also create a school tips or ideas list to help them prepare for the new school year.
You should also think about teachers, who may also be a customer if your market sector is relevant. Perhaps think about offering discounts to teachers for school supplies or products that will be of use at the back-to-school time which may feature among your product range.
Kids Love Interactive Content
We talked about the power of video content earlier. Kids and younger people love interactive content they can get involved with on social media. Think about quizzes related to going back to school, or starting college, or perhaps polls about favorite subjects and other engaging content on the theme. These will entice younger people to join in and engage with your business while building social trust further. At the same time, you will promote your back-to-school offer and boost your sales.
Use Giveaways as Enticement
Your
back-to-school campaign can be playful
. Everyone likes a freebie, and hard-up students especially! You could offer a buy-one-get-one free deal for new customers, or a surprise gift when they sign up with you. It doesn't have to be expensive, but make it relevant to the education and back-to-school theme. Anything free will be appreciated and will give your existing and potential customers a reason to buy from you.
If you are running a contest, you should prepare a dedicated landing page on your website with a simple lead form and make it easier for entrants to join. Always make sure that your page is optimized for mobile devices.
Find Brands to Partner With
When trying to find your feet in your chosen market it pays to discover other brands with the same demographic to partner with. This is commonplace as all parties involved benefit from greater exposure and improved brand awareness. The research and learning involved in finding partner brands will also help you understand where to pitch your messaging and marketing to appeal to your target audience. Established brands have already found this, and you can learn from them.
Involve User-Generated Content
If you want to enhance social trust and build a customer base with a young target demographic, you should encourage user-generated content. Invite feedback from customers or start a conversation by asking school shoppers to comment on or rate your products. Encourage your customers to share images of them using or wearing your school product.
Research shows that more than 80% of Generation Z customers trust a brand that uses images from genuine customers. Furthermore, almost 70% are more likely to purchase a product if they know that others rate it. Any form of conversation starter on a social platform will boost social trust, and we can't stress how important this is for a growing business.
Get Involved with the Community
Local involvement adds to a brand's level of trust. The covid-19 pandemic has had a negative effect on communities, both locally and otherwise, and continues to do so. Look for non-governmental organizations local or relevant to your business that are active in community regeneration, and offer either support or a contribution to partner with them.
Helping schools procure supplies at the back-to-school time gets your business seen as a proactive one that is helpful in the community. This sort of commitment is a great brand awareness booster and need not be expensive.
Offer Students a Discount
Two-thirds of students expect a discount at online retail stores, and more than 80% are more likely to buy from a store that offers a discount. It is sensible, then, to mold your back-to-school campaign around a discount offer.
It doesn't need to be a massive reduction – even 10% is an attractive discount – if you are targeting students who make their own decisions rather than children. A discount offer is a must.
Shopify outlets should be aware that they may need to purchase a third-party app to enable a discount scheme.
Loyalty Programs and Freebie Giveaways
A loyalty program for your customers could be enhanced in the few weeks before the back-to-school date, perhaps offering double your usual points for purchases. This is a certain enticement for students who do not have access to large amounts of cash and are looking for ways to save. Email marketing is the best way to reach out to your loyal customers.
Bundles, Upselling and Free Trials
Another way to increase sales is to upsell and bundle products. For example, when a customer puts one product in their shopping cart, you can trigger a pop-up advising 'customers who bought this also bought…' and offer a discount if they add that product to their purchases. They are most likely to do so with a reduction offered.
If you run a subscription service, think about offering a free trial up to a date a few weeks after returning to school as an enticement to use your store.
Don't miss the occasion! Ensure that your store is displaying 'Back To School' offer banners on all pages, and make it clear that you have a site-wide sale of products for a limited period. This is when students will be buying, so you have the best chance to convert leads into sales. This point applies not just to the back-to-school period but also to other occasions throughout the academic year.
Student Ambassador Programs
Student Ambassador programs involve signing up a few students to act as ambassadors for your brand – perhaps offer them a choice of free products for doing so or an affiliate fee – to push it on campus and their social media channels. This method is useful especially for college shoppers and has been the foundation of many future entrepreneurs.
Many college students may not have access to funds for everything they want, so it is recommended that retailers targeting this demographic offer the use of schemes such as Klarna as a payment option. This segments their payments into smaller amounts over an agreed time. Doing so encourages them to buy from you rather than having to spend a great chunk of their available money in one go.
Personalize for Sports Teams
Back-to-school is the ideal time to offer personalized goods, not just for individuals who may want their name on their equipment but also college sports teams. Sport plays a big part in college life and this opportunity should not be overlooked. You may even offer to sponsor a team by supplying clothes with their name and your brand on them.
Finally, during the promotion period, make sure your content is refreshed regularly and your messaging and social media marketing are relevant to different areas of the school, college, and student life. This puts you right at the front when people are looking for new products.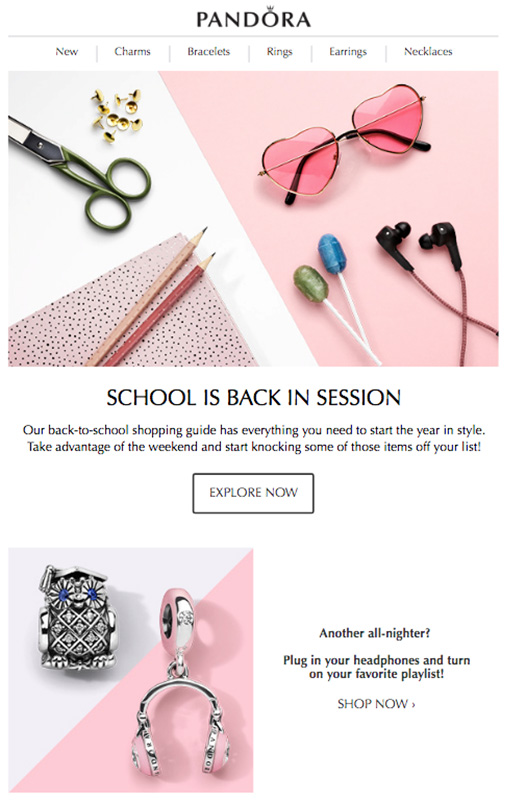 The primary theme of all the above points is the effective use of social media in brand exposure, building social trust, and promoting back-to-school season. The customer base of college students and kids is firmly entrenched in the use of social media platforms, and also – as we have mentioned – they follow and trust influencers to a greater degree than you may have understood. Give our audience reasons to shop with you, and make them aware of your offers, deals, and other schemes, and you will remain a step ahead of the opposition at what is an excellent opportunity to grab those young customers and keep them on board.
We believe the above should give you plenty of inspiration when it comes to planning your back-to-school marketing campaign, so all that remains is for us to wish you good luck! To learn more about back-to-school campaign ideas take a look
here
.
See how you can sync leads collected with Socital on-site campaigns to your mailing list

Start increasing your Online Sales today
Get a quick free consultation about your website.