Awesome Valentine's Day Sales Ideas for Small Businesses
After a challenging year, we hope everyone is safely settling into January. As consumers have wrapped up their Christmas shopping, we know that many Shopify stores are already starting to plan ahead and developing their marketing strategies for another upcoming major holiday, Valentine's Day. With that said, we've put together a list of Valentine's Day promotion ideas designed to be easy to implement and with small businesses in mind. The goal is that these strategies will increase brand awareness, subscribers, and sales, while also being budget-friendly. Whether you own a retail store in addition to your online store, or a company that focuses on a specific service, these ideas may be a useful addition to your overall Valentine's Day promotion strategy, so let's take a look!
There's typically less buildup around Valentine's Day than there is for Christmas and New Year, which means it can catch more people off guard. This is where you come in! For last-minute shoppers, free express shipping can be a major draw to purchase from your Shopify store and help ensure their gifts get delivered on time.
For small business types, budget restrictions may make it trickier to offer free express shipping for all of February, but the week or so before Valentine's Day are the key dates when free express shipping might matter more, so providing that option for even a few days can still be enough to accommodate those who've waited a little longer to buy their Valentine's Day gifts, and can draw in enough customers to make the tradeoff worth the initiative. Just make sure to reach out to your suppliers to determine when the last day for guaranteed Valentine's Day delivery is, add a few extra days as a buffer and launch your sale!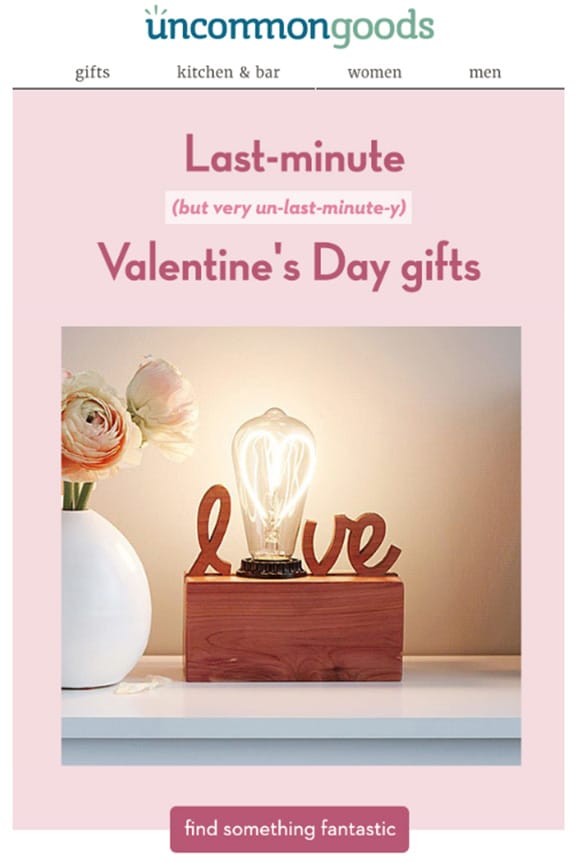 Tip: To make things even easier for last-minute shoppers, you can also create and feature a Valentine's Day gift guide!
#2 Nominate a loved one promotion
You know someone that would enjoy Valentine's Day treats, which means customers do too! Spread a little love and ask your followers to nominate someone to receive a special Valentine's Day gift from your Shopify store. Prizes can include a gift card, a gift set, or one of your best-sellers. It's an occasion meant to show appreciation to others, so offering an opportunity for your subscribers to be not-so-secret admirers and do just that through your business is not only in tune with the season, it's also a way to help your customers send something extra to their loved ones.
#3 Valentine's Day Lottery
Time to get some tickets! Inspired by Sugarfina's "Love Lotto", where customers that made a purchase over $25 were entered into a raffle to win a range of themed prizes, this holiday marks a good occasion for your online business to launch its own version of some Valentine's Day sweepstakes! The first step is to determine who's eligible to participate. If you're looking to increase leads or social media followers, then the rules for entry can be targeted towards a wider audience. If you're looking to increase sales or your average order value, consider encouraging visitors to make a purchase in order to be eligible. If you're a small business and don't yet have many orders, sticking to more widely accessible eligibility requirements may be the way to go.
Given also that country and state laws can vary in terms of setting up sweepstakes, the safest bet is to ensure those participating can enter without needing to make a purchase. You can also include a tier of potential prizes, and they don't all have to be products! Aside from gift cards and gift sets, you can also offer major discounts or other exclusive digital perks.
#4 Double loyalty program points
If you're a small business, maybe launching a loyalty program is a little further down the line for you. If you've already set one up though, you already have a powerful tool in your marketing toolbox, and Valentine's Day is a great occasion to maximize its benefits. For subscribers who have signed up, you can double the points they can earn during the days surrounding the season. For an even simpler strategy, you can also add themed, Valentine's Day rewards for a week or so that members can exchange their points for. This type of promotion provides an opportunity for and encourages subscribers to take advantage of your loyalty program and reap its benefits faster, plus it's a way to give back to your more active followers. Remember to send an email newsletter to your subscribers letting them know about your new additions, and emphasize that they'll be available only for a limited time! Not sure how to launch a loyalty program? You can get started with Shopify apps like Smile or Loyalty Lion.   
#5 Valentine's Day contest
This marketing idea requires a little more engagement from your followers, but hosting a contest is an effective tool to not only learn more about consumers that engage with your brand but to encourage user-generated content that can be showcased across your social media platforms. If you're focusing on Instagram, consider hosting a hashtag contest, where participants respond to a specific prompt and upload their posts using your designated hashtag. Prompts to consider include:
You can also ask followers to upload their own creations (in this case, crafting their own valentines and uploading their photos is especially relevant!). However, you choose to launch your contest, make sure to invite participants to follow, tag, and comment on your post announcing it so that you can also grow your social media following. To make your contest extra festive, consider offering Valentine's Day themed prizes!
P.S. If you're looking for some easy to set up software solution to collect leads and also help you pick out a winner for contests that require newsletter sign-ups, check out pop-up builder Socital!
Valentine's Day may only be on February 14th, but that doesn't mean your sales have to be! Consider creating an entire week-long event around Valentine's Day, where each day you reveal a different promotion or perk for followers. This can be a space to announce new limited product launches, specific collection-wide sales, and incorporate all the discounts you plan to set up into seven days of updates. This keeps the celebrations going, and increases customers' interest in what your business is doing!
#6 Free Valentine's Day gift with purchase
A seasonal discount or a special offer is useful for shoppers, but sometimes receiving an additional Valentine's Day gift in the mail is something a little more concrete and festive touch for your customers to enjoy. Consider offering a small token of appreciation to customers for each or qualifying purchases. This can increase your business' average order value and overall sales, and decrease abandoned carts since your customers are more likely to follow through with their purchase if they know they'll get something extra. Plus, this can be a good opportunity to showcase new products that customers may not have discovered on their own!
#7 One for you, one for them sale
For a Valentine's Day spin on the classic buy-one-get-one sale, celebrate the occasion with a promotion that lets customers get two items half off. To make the sale extra relevant, the key here is to focus on the sharing aspect of the promotion and encourage shoppers to make purchases for their loved ones as well. You can also incorporate different versions like a buy-one-get-one 50% off, or even buy two get two (and beyond) to increase order value.
Valentine's Day is one day out of the year, but that also means you can take advantage of this short period of time in February leading up to the holiday to offer themed flash sales. You also don't have to wait until the last minute to let potential customers know! You can build anticipation for the sale by reminding your followers and generate a sense of urgency throughout its duration with countdowns. Aside from publicizing your flash sale on your website, social media stories are a particularly useful method for promoting it (they even have their own built-in countdowns)!
Tip: Some email marketing platforms like Mailchimp provide additional add-ons that allow you to set up a dynamic countdown in your emails!
#9 Valentine's Day giveaway
Not that you need a specific reason to host a giveaway for your followers, but Valentine's Day is a great occasion to give potential customers the opportunity to win some holiday gifts. For a business, these giveaways are best hosted with another brand, so pair up with another business (or two!) so that everyone can maximize their reach. If you're also considering partnering with an influencer to host a giveaway, try to think about not only how many followers they have, but their target audience and their engagement rate. The goal is not only to have a large audience, but also a large relevant audience, particularly when it comes to potential future remarketing.
Similar to sweepstakes, make sure to evaluate what the specific goals of your giveaway are before promoting it. If you'd like more email subscribers, you can set rules that encourage more steps, and promote the giveaway on your website and across all social media platforms. If you're looking for more followers, asking participants to like, comment and tag friends is an effective strategy that also allows your email list to include primarily fans who are actively invested in your brand. Giveaway prizes can include Valentine's Day themed gift sets, gift cards, or even a specific experience (dinner, free service, etc.).
#10 Subscriber and product-specific sales
While Valentine's Day promotion aimed at shoppers and general can successfully drive up sales, what if you launched discounts on products directly related to your subscribers' interests? More personalized promotions can yield an increased return on investment, and it can help consumers identify more strongly with your brand. You can recommend Valentine's Day themed gifts or just general products they would enjoy as part of your overall Valentine's Day promotions. Not sure how to reach subscribers with personalized messaging?
Socital's pop-up builder allows for sign-ups with users' social media profiles
, giving Shopify stores the ability to send personalized product recommendations based on their Facebook likes.
#11 Pre- and Post-Valentine's Day sale
So it's widely known that one of the best times to purchase Valentine's Day candy is right after Valentine's Day when they're offered at a major discount. These types of mark-downs can extend to your online business as well! If you still have stock left over after Valentine's Day, consider launching sales that offer higher than usual discounts.
Themed items can still be useful to potential customers after Valentine's Day has passed, so having an "everything must go" approach to your Valentine's Day items can lead to an increase in orders, even if visitors are not purchasing items as gifts.
Also remember that while February 14th is Valentine's Day, your Shopify store can celebrate other dates associated and leading up to the holiday, too. For example, popularized by the show Parks and Recreation, Galentine's Day is on February 13th. In the past few years, it has been gaining more and more traction and is another date to keep in mind when brainstorming Valentine's Day promotion ideas, particularly for millennial women. In general, when finalizing your Valentine's Day sales, it can also be useful to frame them as focused on all types of love, in addition to romantic connections so that regardless of relationship status, shoppers are reminded that the celebrations can include everyone!
If you're interested in some more Valentine's Day promotion ideas to create irresistible deals, you can download our full Valentine's Day e-commerce guide here. Don't wait until the last minute!
Have a wonderful Valentine's Day promotion and happy selling!
Start increasing your Online Sales today
Get a quick free consultation about your website.