FOREBELLE GROWS THE EMAIL LIST & IMPROVES THE SALES CONVERSION RATE
Fashion retailer acquires 10K of new emails in 53 days and collects rich identity data by using Socital.
New subscribers in 53 days
Increase in
email open rate
Socital's contribution to overall online sales
More than 70% of the brand's website traffic comes from mobile.
Most of the consumers visiting the retailer's website first-time rarely make a purchase.
Before utilizing Socital, Forebelle had in place a welcome coupon pop-up for the first-time purchase which was not delivering desirable results.
To capture first-time visitors and turn them into potential buyers, we designed 2 campaigns:
The "Welcome Back" campaign had a 3x higher conversion rate compared to the "Welcome offer" campaign and brought 15.3% higher order value!
Since the major traffic source was mobile, adding the Facebook login CTA button to our pop-ups as a sign-up method was one of the mandatory tactics. It eased the sign-up process, visitors could do it in just one click.
Forebelle grew the email database from 0 to 10K newsletter subscribers in 53 days.
If the Brand continued with the strategy they had in place before using Socital, it would take them approx. 2 years to achieve the same results.
Email Marketing Personalization
Our solution for lead capturing is based on collecting rich identity data which includes subscriber's first name, gender, age, interests, and brand affiliations. Access to these data helped us create a customer-centric experience and implement a successful email marketing personalization strategy.
We applied to the newsletter one of the personalization tactics such as adding subscribers' First Name to the subject line, which affected an increase in the email open rate from 7% to 14%.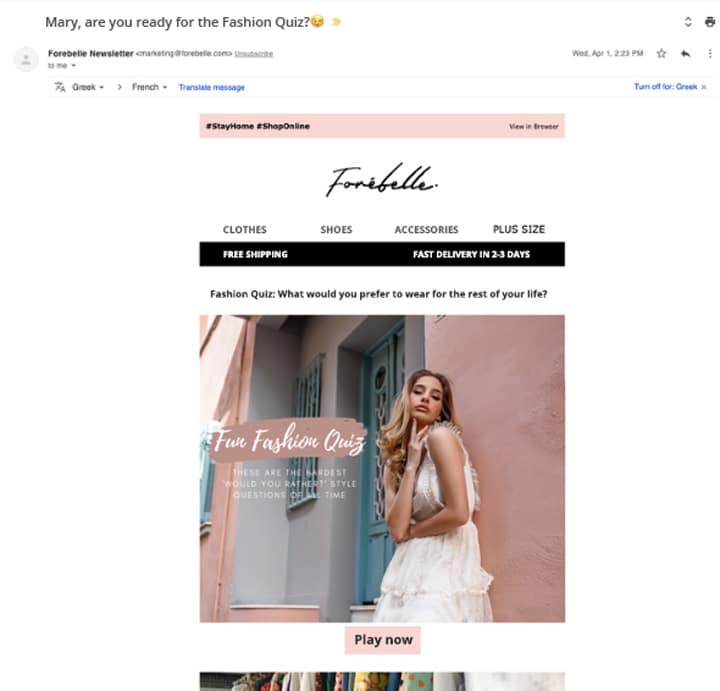 "We started our cooperation with Socital with a primary goal to build our subscribers' base from scratch. We achieved the 6-month goal within almost 50 days! Gradually we realised that the platform offers many more solutions essential for an e-shop nowadays, like Exit Intent Pop-ups, sliders (which in the case of COVID-19 period were really useful for pushing instant notifications to our visitors). Countdown timers aimed to boost our conversions during sale or flash sale periods. Using personalised messages we managed to double our newsletter Open Rate and the audience we acquired through Socital performed with an average 11.4 ROAS on Facebook lookalike audiences over the past 3 months. As we move forward our next target is the use of exit pop-ups for cross-selling and up-selling purposes and further adopt the use of custom segments in our email marketing and paid media strategy."
Start increasing your Online Sales today
Get a quick free consultation about your website.